PNBConditioning
PNBConditioning
Originally designed for PNB dancers and students, today PNBConditioning uses the Pilates method to help people from all walks of life strengthen and sculpt their bodies. PNBConditioning develops core strength and stability, promotes long lean muscles, increases flexibility, and works for any fitness level.
Essential Barre
Essential Barre is a 50 minute workout that invigorates with a healthy challenge of dynamic movements and small, isometric movements. The workouts integrate musical rhythms, small props, and ballet barre.
Contact us in Seattle at 206.441.2435 or on the Eastside at 425.451.1241 for more information.
Pilates
Private
One-on-one with a certified Pilates Instructor
Private sessions allow the instructor to develop a series of customized exercises to address the client's needs, goals and injuries for a balanced and effective workout. In addition, clients will learn correct breathing, form and alignment while using the apparatus for resistance and stability.
Semi-Private
2–4 clients with a certified Pilates Instructor
Most clients are ready for semi-private sessions after 5–10 privates and with the instructor's okay. In semi-private sessions, one instructor works with 2–4 clients and clients will generally do the same routine with modifications for individuals as needed.
Mat
Drop-In group sessions
Mat Classes strengthen core muscles and align your body. The exercises are chosen to challenge your mind and body. They promote long, lean muscles and a healthy balance of flexibility and strength.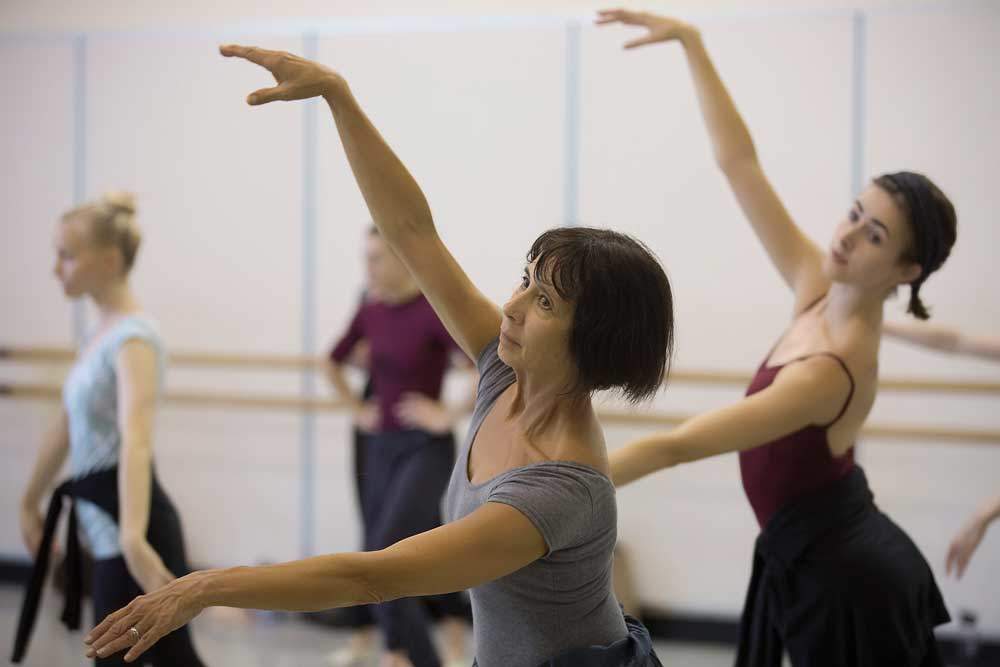 Open Program
Enjoy the benefits of quality dance training in the remarkable studios of Pacific Northwest Ballet School. Open classes are taught by the School's nationally acclaimed faculty and are accompanied by professional pianists. Classes are designed to enhance each student's experience to the fullest in a stimulating and creative atmosphere.
2019-2020 Schedule
September 5, 2019 – January 25, 2020
Pilates Mat & Essential Barre
Francia Russell Center Only
Pilates Apparatus Sessions
Semi-Private and Private
For schedule openings and to make an appointment for a semi-private or private session, please call:
Seattle Location: 206.441.2435
Eastside Location: 425.451.1241
Rates
3-Pack Intro Rate: $183.10 (before tax)
Private sessions range from $76 (single session) to $691 for a 10-pack.
Semi-private sessions range from $48 for a single session to $430 for a 10-pack.
All packs are good for six months. Private and Semi-private apparatus sessions must be scheduled in advance.
Call our Seattle location at 206.441.2435 or our Eastside location 425.451.1241 to schedule.
Single Mat Classes
Single: $18
5-pack: $83
10-pack: $147
Policies:
24 hour cancellation policy. No appointments are necessary for Mat classes.
180 day (6 month) expiration policy on all purchased sessions.
All sessions are non-transferable and non-refundable.
Pilates Apparatus Sessions
Semi-Private and Private
For schedule openings and to make an appointment for a semi-private or private session, please call:
Seattle Location: 206.441.2435
Eastside Location: 425.451.1241
What is Pilates?
Pilates (pronounced Pil-LAH-tees) is a system of body/mind development named after its inventor, Joseph H. Pilates. More than exercise, Pilates is an integrated approach to movement that, when correctly performed, uniformly develops the body. The method's exercises safely develop strength, flexibility and endurance, without adding the bulk that often results from conventional exercises.
What are the Benefits of Pilates?
• Longer, leaner muscles
• Improves postural problems
• Increases core strength/stability
• Helps prevent injury
• Enhances functional fitness
• Balances strength and flexibility
• Heightens body awareness
• No-impact (easy on joints)
• Can be customized for everyone from rehab patients to elite athletes
• Complements other methods of exercise
• Improves performance in sports / dance
• Improves balance, coordination, circulation
How is Pilates different from yoga and other types of exercise?
Though some Pilates exercises are similar to yoga, Pilates does not involve holding poses. Instead, one moves through the exercise. The breathing technique used is different from that used in yoga as well. Pilates focuses on strengthening the deep stabilizing postural muscles.
What is the difference between Mat work and Apparatus work?
Both systems use the Pilates method and follow the same fundamental principles. In mat work your main resistance is the weight of your own body. On the apparatus you work against the weight of springs for resistance and stability. The apparatus can assist people to accomplish some of the exercises; often people will find the mat work more challenging. However, there are basic and advanced-level exercises in both the mat work and apparatus series.
Which one should I start with?
You may do one without the other or both simultaneously as long as you are healthy and don't have any major injuries. If you do have injuries or chronic pain that you are unsure of how to address, it is recommended that you start with a private session before trying Mat class. Keep in mind that you will not get the same kind of individual attention in Mat classes as you do in smaller semi-private or private sessions. You can choose what style of work you prefer.
Will Pilates help me with my knee/shoulder/lower back pain?
Pilates seems to be quite effective with rehabilitation and post-rehabilitation. A Pilates workout is gentle and controlled with no sudden jarring actions. Make sure your instructor is aware of your physical limitations; an experienced instructor will be able to modify the exercises to accommodate your limitations, continually challenge you and monitor your improvements. If you commit to a consistent workout schedule you will certainly feel results. Always check with your physician before starting any fitness or rehabilitation program.
Will it help me lose weight?
Pilates strengthens your muscles and does burn calories, but it is not aerobic. However, some clients report that their shape changes as their posture improves and muscle tone increases; as a result they appear thinner.
Who can do Pilates?
Almost everyone. Our clients range from 16-year-old dancers to adults in their 70's; injured and fit. Pilates can be modified to fit just about any client. Many athletes as well as PNB Company dancers fit Pilates into their fitness routine to enhance performance and gain/maintain strength when injured. Note: If you are pregnant, you should not begin any new type of exercise program without your doctor's consent. Then, with a careful approach and qualified instructor, you can strengthen muscles.
Can't I learn and do Pilates on my own?
Yes, there are many good books and videos available for home learning. However, these resources have one limitation in common: they can't give you feedback concerning your performance of the exercises. We recommend getting started with a Mat class or a few private sessions before practicing Pilates at home.
How often should I do Pilates?
As with any physical fitness program, 2–3 sessions per week is ideal to really see and feel the results quickly. Some people do more or less or supplement apparatus sessions with mat classes. Some clients do one session per week and feel results.
What should I wear?
Wear comfortable fitted or loose clothing that allows you to move easily. No shoes. Longer shorts or pants are preferable.
What is the difference between Private & Semi-Private Sessions?
New clients must begin with private sessions (even if you have done Pilates at another studio, you need to start with at least one private session). In private sessions the instructor will gear your workout to what your specific goals are and what is best suited for your body. After your private session(s), the instructor will decide when the client is ready to switch into a semi-private session. Most clients are ready for semi-private sessions after 5-10 privates and with the instructor's okay. In semi-private sessions, one instructor works with 2–4 clients and clients will generally do the same routine with modifications for individuals as needed.
Cancellation Policy / Multi-session expiration dates
24 hours notice must be given in order to cancel a session without having to pay. Multi-session packages expire 180 days (6 months) from the date of issue. Sessions are non-transferable and non-refundable.
Registration: Clients must register for PNBConditioning with their full name, email address, billing address, and phone number, and provide a valid credit or debit card prior to booking appointments. During registration, each client must sign the PNBConditioning Waiver and Credit Card Auto-Renewal Authorization.
Payment: Payment is always due at time of service. Appointments will not be booked without a valid credit card number and Authorization form on file. If client wishes to pay with check or cash instead of having their credit card charged, we will also accept check or cash payments at the time of booking.
Auto-Renewal: PNBConditioning offers auto-renewal for all accounts. We are happy to automatically book standing appointments for clients who wish to create a consistent schedule. Appointments may be purchased in single, 5-, or 10-class packages in advance, or charged at the time of service with a valid credit card on file.
Cancellation: PNBConditioning observes a 24-hour cancellation policy. Any appointment not cancelled at least 24 hours in advance will be charged to the client.
Private vs. Semi-Private Policy: Private Sessions occur when there is one client with one instructor. Semi-Private sessions occur when there are 2-4 (2-3 in Bellevue) clients with one instructor. Semi-Private Sessions may be requested by clients who wish to book appointments with friends, and/or open their appointment window to share with other clients—however, if a client is alone in an appointment time, this constitutes a Private Session and will be charged at the Private Session rate.
There are no extensions, refunds, transfers, or assignments of PNBConditioning classes or sessions. All Conditioning classes and packages have a 6-month expiration date.
"Thanks to PNBConditioning I now have much better core strength and flexibility than I could have imagined. The facilities, the surroundings, and especially the instructors create a great support system for both new and experienced clients. Each one has helped, encouraged and often pushed me to a better level of fitness. It's a great program with great people and I highly recommend it for all body types and all ages. Thank you PNBConditioning!"
"After years without regular physical exercise, I began Pilates instruction at PNB's Conditioning studio to prepare for my first ski trip in a decade. Two years later I am hooked. The combination of stress reduction and core strength development I get from Pilates is now essential to my sense of well being. The facilities and staff make the hard work fun and rewarding!"
"You really feel how your mind body and spirit are connected."
"After surgery and much physical therapy, I tried PNBConditioning. After ten weekly private classes there were dramatic improvements And this with NO pain! Now my 12-year old daughter joins me at the mat class."
"I really like PNBConditioning because you use more than one muscle group and there's always room for improvement. I never get bored."
"People who haven't seen me in awhile tell me how great I look. They ask what I 've been doing. I tell them PNBConditioning has made the difference. I recommend it to everyone looking for a gentle mind-body fitness program that really works."