PNB kicks off the 2018-2019 season with a festival dedicated to Jerome Robbins' 100th birthday. We wanted to make it BIG, so we're performing two alternating programs. It's something we haven't done in years, and we're excited to share the experience with our audiences!
Let's dive a little deeper into Program A, which you can catch on September 21 at 6:30 PM, September 22 at 2:00 PM, and September 29 at 7:30 PM. This program features five Jerome Robbins ballets: Circus Polka, In the Night, West Side Story Suite, Afternoon of a Faun, and Other Dances.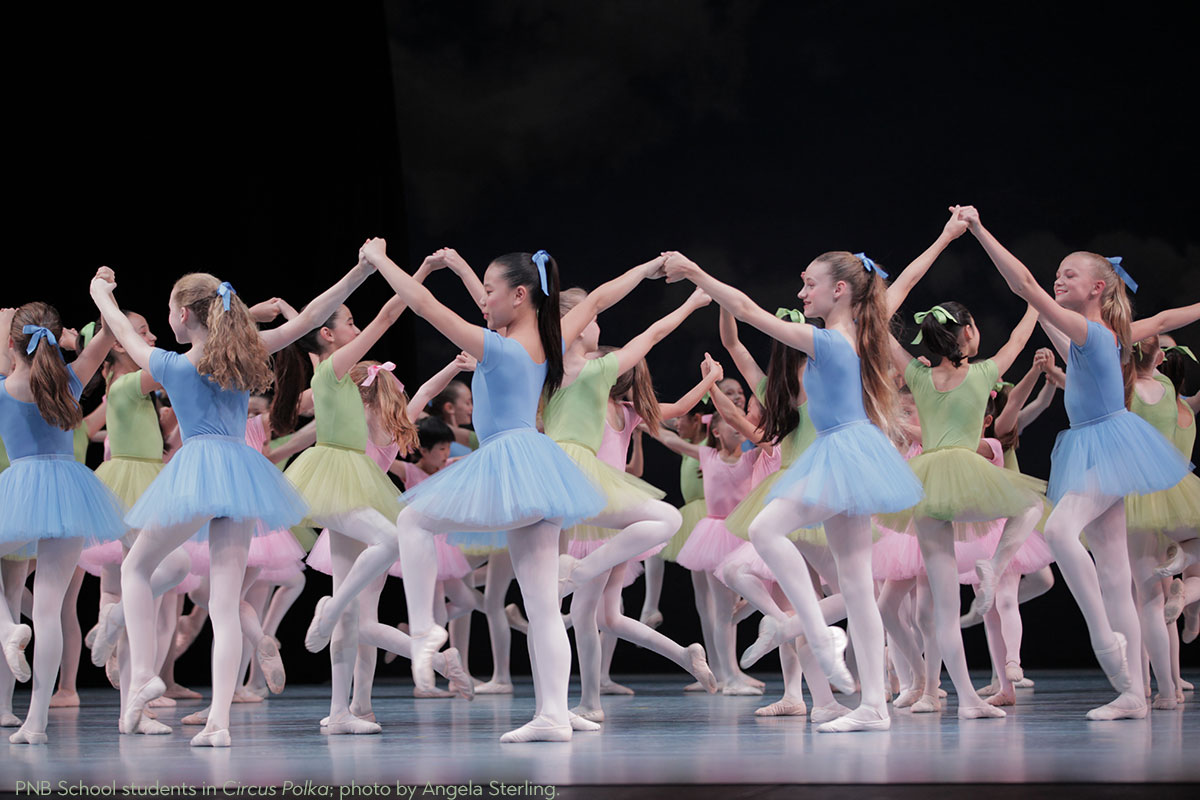 Circus Polka
Time: 5 minutes
Premiere: 1972 at New York City Ballet
Inspiration: George Balanchine first created Circus Polka for Ringling Brothers in 1942 for 50 elephants and 50 girls. In 1972 (after hundreds of performances of the original), Robbins re-created it for 48 young female ballet students and a ringmaster.
Themes: Featuring the largest number of dancers onstage in this program, Circus Polka is a kaleidoscope of movement and a showcase for dozens of tiny, sprouting dancers enrolled in PNB School. At the end of the piece, a floor pattern spells out an anagram, initials, numbers, or whatever else holds significance to the performance. What will it be this time? JR? 100? Come find out!
Why we're excited about it: Each time PNB presents Circus Polka, we find a local celebrity guest to play the role of the ringmaster. We can't wait to see who wrangles all 48 cast members for the Festival!
In the Night
Time: 25 minutes
Premiere: 1970 at New York City Ballet
Inspiration: There's a particular type of music that evokes nighttime feelings: Nocturnes. Frederic Chopin was the most famous purveyor of nocturnes, and four of his quiet and dreamy nocturnes for solo piano inspired this ballet by Jerome Robbins.
Themes: In the Night takes audiences through three stages of romantic relationships via three couples. The first is doused in puppy love – a tender and young romance. The second couple seems more stately, with mature and balanced love that's stood the test of time. And the third couple takes us all by storm, filled with a fiery and passionate love.
Why we're excited about it: PNB hasn't performed In the Night in a decade, and we're so excited to see the casting for this piece. We're especially excited to see who will perform the role of the fiery & passionate couple!
West Side Story Suite
Time: 36 minutes
Premiere: 1995 at New York City Ballet (original Broadway premiere in 1957)
Inspiration: Jerome Robbins took the classic love story of Romeo and Juliet, moved it to Manhattan and added lots of dancing to create West Side Story. He excerpted several iconic songs and dances from the show for NYCB's West Side Story Suite in the '90s, and the story is just as touching on the anniversary of his birth.
Themes: The ballet centers on the rivalry between the Jets and the Sharks. Racial tension and social issues fuel the plot, along with the plight of star-crossed lovers Tony and Maria.
Why we're excited about it: If rumors are true, Steven Spielberg is directing a remake of West Side Story, and he's specifically looking for Latinx actors to cast as the Sharks. We're inspired by the anti-whitewashing movement in Hollywood, and we're hoping to see PNB dancers shine onstage in these live excerpts from this Broadway classic that became a multi award-winning film.
Afternoon of a Faun
Time: 10 minutes
Premiere: 1953 at New York City Ballet
Inspiration: Jerome Robbins says his impetus to create Afternoon of a Faun came from a vision of a boy sleeping in the studio at New York City Ballet. The young boy (who, by the way, was Edward Villella) begins rehearsing a pas de deux with a young woman, and—perhaps inspired by Nijinsky's 1912 ballet of the same name—the ballet becomes quite intimate.
Themes: If you look at the stage, it's set up like a ballet studio, with barres on each side. But where's the mirror? The audience serves as the "fourth wall" in this piece, so the dancers dreamily gaze into their midst as they perform, as if the crowd is a mirror.
Why we're excited about it: What can we say? We're suckers for a romantic pas. But really, bring your sweetheart to this one. It's trance-like and oh-so-romantic, and it gives us a glimpse into the studio life of professional ballet dancers. What are they thinking while they kiss during a rehearsal or hoist their partners in the air by the waist?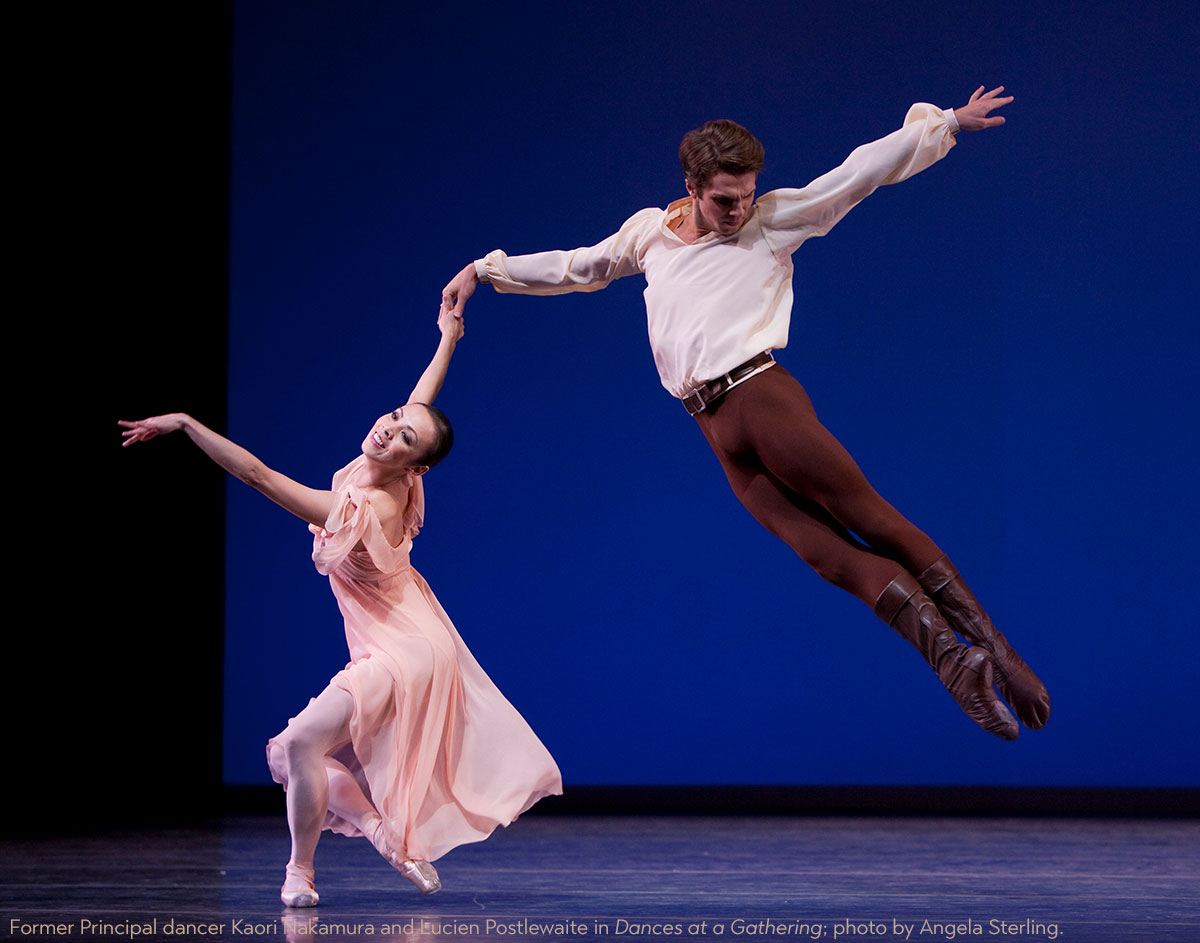 Other Dances
Time: 18 minutes
Premiere: 1976 at the Gala Benefit for the New York Public Library for the Performing Arts
Inspiration: Robbins wasn't quite finished after creating Dances at a Gathering in 1969. Inspired by Chopin's music—as well as Russian expats and American Ballet Theatre stars Natalia Makarova and Mikhail Baryshnikov—he created Other Dances to expand on his earlier work.
Themes: The three mazurkas and the waltz within Other Dances are the basis of the work. Beyond that, it's a signature Robbins: romantic, filled with hints of a relationship, and neoclassical.
Why we're excited about it: PNB has never performed this work! We're excited for its Seattle premiere, and we can't wait to see it back-to-back with Dances at a Gathering, featured on Program B.