Meet the NEXT STEP Artist: Miles Pertl
Miles Pertl (he/him) is from Seattle, Washington. He trained at Pacific Northwest Ballet School, International Ballet Academy in Kirkland, Washington, and the John Cranko Schule in Stuttgart, and he attended summer courses at San Francisco Ballet School. Mr. Pertl joined Stuttgart Ballet as an apprentice in 2010 and was promoted to corps de ballet in 2011. He next joined Het Nationale Ballet as a member of the corps de ballet in 2012 before joining Pacific Northwest Ballet as a member of the corps de ballet in 2015 and was promoted to soloist in 2021.
Read on to learn a little more about Miles and his new work, and see his new choreographic work for NEXT STEP 2023 on Friday, June 16 at 7:30PM at McCaw Hall. Click here for more information and to buy your tickets.
NEXT STEP is PNB's annual choreographic workshop where Company dancers have the opportunity to create original works for PNB School Professional Division students. NEXT STEP provides opportunity, infrastructure, and support to grow tomorrow's choreographic talent while providing a performance opportunity to our most advanced students.
Interviewed by Eric Hipolito
What is your piece about? Where do you draw your inspiration from?
Ricochet is a ballet that is inspired by the dancers who shared their knowledge and philosophies on dance with me. I see this piece as an opportunity to continue that tradition by passing on to this new generation of young and talented artists what I have learned.
What is your choreographic process like? Why did you choose to choreograph this year?
I often start a choreographic process with a seed of an idea and the music. I can listen to a piece for years before putting it together with any dance steps (as with this piece). The music is the foundation and determines the structure and sensation of the piece.
Is this your first time choreographing for NEXT STEP or are you a returning choreographer?
I have choreographed once before for NEXT STEP, way back in 2016, but have had the opportunity to make multiple pieces on the school and on the company. Working with the Professional Division is always a privilege, their enthusiasm and talent have a way of shining through works created on them.
What do you want the audience to leave with after your piece?
A smile… and appreciation for all the years of training these artists have already devoted to mastering their craft.
What are you going to do with your time off?
Travel, go agate hunting on our incredible PNW beaches and go on a search for the perfect local beer.
Who were your role models or inspiration when you were younger?
Deborah Hadley, PNB/s original prima ballerina, gave me some of the most in depth technical knowledge while maintaining the innately humane aspect of being a successful dancer.
What is one thing most people don't know about you?
I co-direct a local non-profit called Damfino Arts with my sister, Sydney. We strive to create opportunities that bring artists of different mediums together to art that brings together different communities and audiences. So often art is silo-ed into dance, visual art, or music; we believe that we ask influence each other and can grow by working together.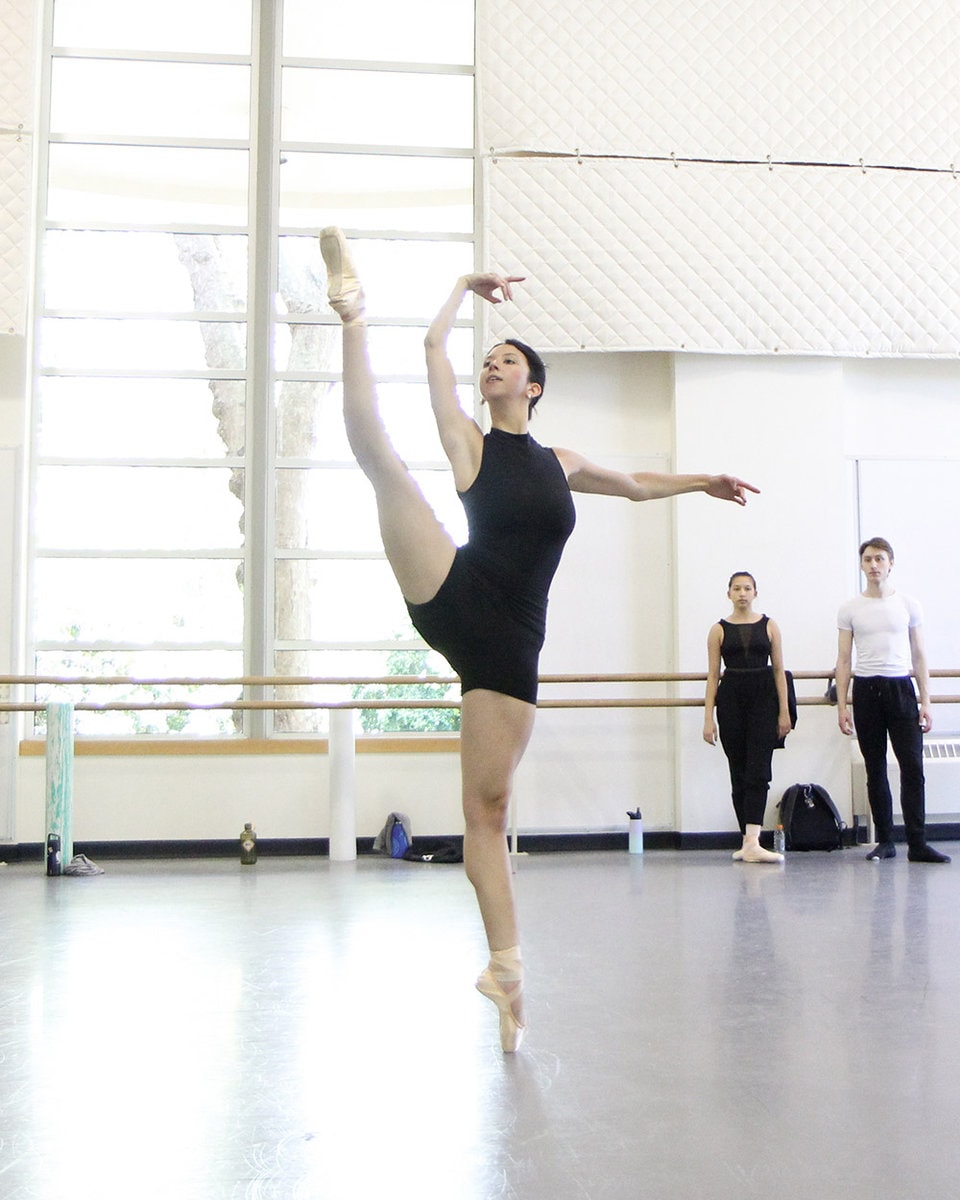 Define yourself in three words.
Beer-loving sports/arts lover (I'm pretty sure that counts as three words)
What is the best piece of advice you have received?
Know thyself. So many of the difficulties we face are created while trying to fit into others expectations. The things we love and believe in are often left unsaid or unfollowed. Knowing what drives you and how to harness it is something we can always rely on.
Photo credits: Miles Pertl © Angela Sterling. Miles Pertl in rehearsal for NEXT STEP with PNB School Professional Division students, photos © Eric Hipolito.