Meet the NEXT STEP Artist: Zsilas Michael Hughes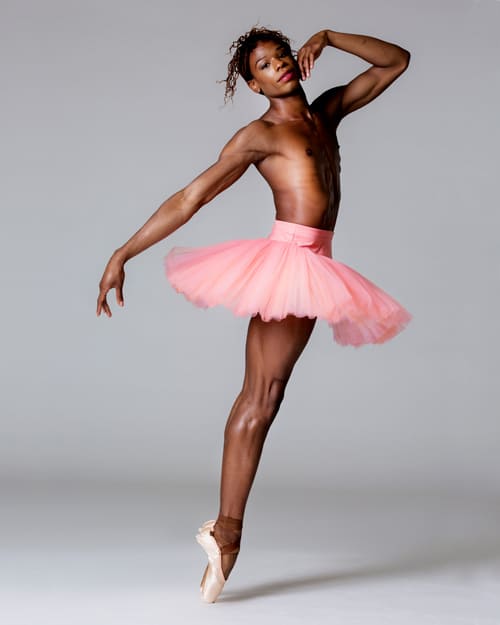 Zsilas Michael Hughes (they/them/he/she) is from Little Rock, Arkansas. They trained under the kinesthetic conceptual teachings of Arleen Sugano at Rock City Dance Center and on full scholarship at Pacific Northwest Ballet as a Professional Division student. They attended summer courses at Complexions Contemporary Ballet, Dream Big Dance Company, Ballet Arkansas, Central Pennsylvania Youth Ballet, University of Utah, and Pacific Northwest Ballet. Zsilas joined Pacific Northwest Ballet as an apprentice in 2021 and was promoted to corps de ballet in 2022.
As a PNB student, Zsilas performed in digital works by Leah Terada (On Being), Miles Pertl (Giving Garden), and Christopher D'Ariano (Follower) for PNB's NEXT STEP choreographer showcase. In 2017, Zsilas was the recipient of the Youth America Grand Prix (YAGP) First Place in Classical/Contemporary division. Zsilas Michael Creations is an archive of self-choreographed solo works.
Read on to learn a little more about Zsilas and their new work, and see their new choreographic work for NEXT STEP 2023 on Friday, June 16 at 7:30PM at McCaw Hall. Click here for more information and to buy your tickets.
NEXT STEP is PNB's annual choreographic workshop where Company dancers have the opportunity to create original works for PNB School Professional Division students. NEXT STEP provides opportunity, infrastructure, and support to grow tomorrow's choreographic talent while providing a performance opportunity to our most advanced students.
Interviewed by Eric Hipolito
Is this your first time choreographing?
This is my first time choreographing for NEXT STEP. I am a choreographer, creator, just as much as I am a dancer and a mover.
What is your choreographic process like? Why did you choose to choreograph this year?
At the beginning of the choreographic process, I prioritized allowing my movement to manifest in my mind and it was easy to transfer it to my body. The clarity of both my mental gauge and physical ability created the clarity used to instruct the young artists I chose to work with. I created phrases that had no correlation to one another, but as the vision was gifted to me, the movement, dancers, and the scene came alive I my mind. Similar to my musical composition, it was a challenge to formulate the piece as a whole. I had many ideas, and sections that provided a concept, but nothing naturally seemed to piece together. It truly was a one thousand piece puzzle that did not come together easily. Once I created an excess amount of material for the piece, I was able to create a choreographic movement vocabulary was identified in the dancers bodies, the process of creating transitions and formations took place.
You composed your own music for your piece. Tell us about your source of inspiration.
Piano Concerto Appassionato in B Minor. The emotional depth of the piece is rooted in such a deep darkness and despair, I am not able to even put the story into words as of today. My musical composition is rooted in a very deep and emotional background. I was able to release the roots of darkness in my life through music. I was able to create an auditory response to what I was feeling months ago. This story has evolved as time has created a new human, a new way of listening, and believing. I found that the intricacies of my music dictated the movement I created.
Who were your roles models or inspiration when you were younger (dancer or non-dancer)?
My mother, a strong black woman, has been one of my greatest inspirations. Through her fashion she could convey a message of supple authority. When she steps in the room, she demands your attention with the mere act of existing. Her presence alone screams regality and assurance, yet vulnerable. The power and strength of a black woman has taught me so much about perseverance, pride, and divinity. [Other role models are] Beyoncé, Taraji P. Henson, Janelle Monae, Solange Knowles, Viola Davis, Lauren Anderson, Jennifer Lewis, Mo'Nique, and so many others that have gone against the grain to build their empires. I find myself also drawing inspiration from my chosen family. The family that doesn't share my molecular DNA, but they share my heart, experiences, and values.
What are you most excited about these days?
I am most excited about expanding myself outside of the McCaw Hall stage. I have taken my creativity and implemented it into different avenues of entertainment and found responses from audiences of all different backgrounds. I enjoy fashion, cinematography, and historical literature, and I appreciate the challenge of developing a brand that is rooted in diversity in all aspects.
What are you going to do with your time off?
During my time off from the company, I will be performing and filming a project with Ballet 22 in Oakland, California. Performing a mixed rep, both en pointe and flat that will be very exciting. I will also be working on completing my debut album featuring the first single Piano Concerto Appassionato in B Minor. The album will be composed of mixed genres, ranging from influential classical soulful rhythm and blues
What is the best piece of advice you have received?
The best advice was not directly given to me, but was received and it came from actress and talent extraordinaire, Jennifer Lewis, "You have to love what you do, with your entire molecular structure. Find your passion!…When the elevator is broken, take the stairs…You can have any anything you want, anything! Anything you want, you can have"
Define yourself in three words
I don't have three words to describe myself, but I do have five, "A FORCE TO BE RECKONED WITH". And these are not my words. They came from my sponsor.
What is one thing most people don't know about you?
Something most people don't know about me is that I live in the nature of a never-ending learner. I thoroughly enjoy learning new ways of thinking, being, and doing. That challenge in itself pushes my pursuit of what I identify accomplishments as.
"…took many years of vomiting up all the filth that I had been taught about myself, and halfway believed, before I could walk around this earth like I had the right to be here. I have the right, you have the right, we all have the right." James Baldwin
Photo credits: Zsilas Michael Hughes © Angela Sterling. Zsilas Michael Hughes rehearsing their new work for NEXT STEP with PNB School Professional Division students, photos © Eric Hipolito.