PNB by the Decades: Dancing around the Globe and in Seattle in the '90s
As PNB celebrates our 50th anniversary season, we are looking back to our past. We've discussed the company's beginning during our "Far-Out" first years and the creation of Kent Stowell's productions of Swan Lake and Nutcracker during the '80s. Now, we're turning our sights to the '90s, which were "all that and a bag of chips" when it comes to PNB. Now established as a prestigious dance company, PNB focused on engaging with the local community and touring the globe in the 90s.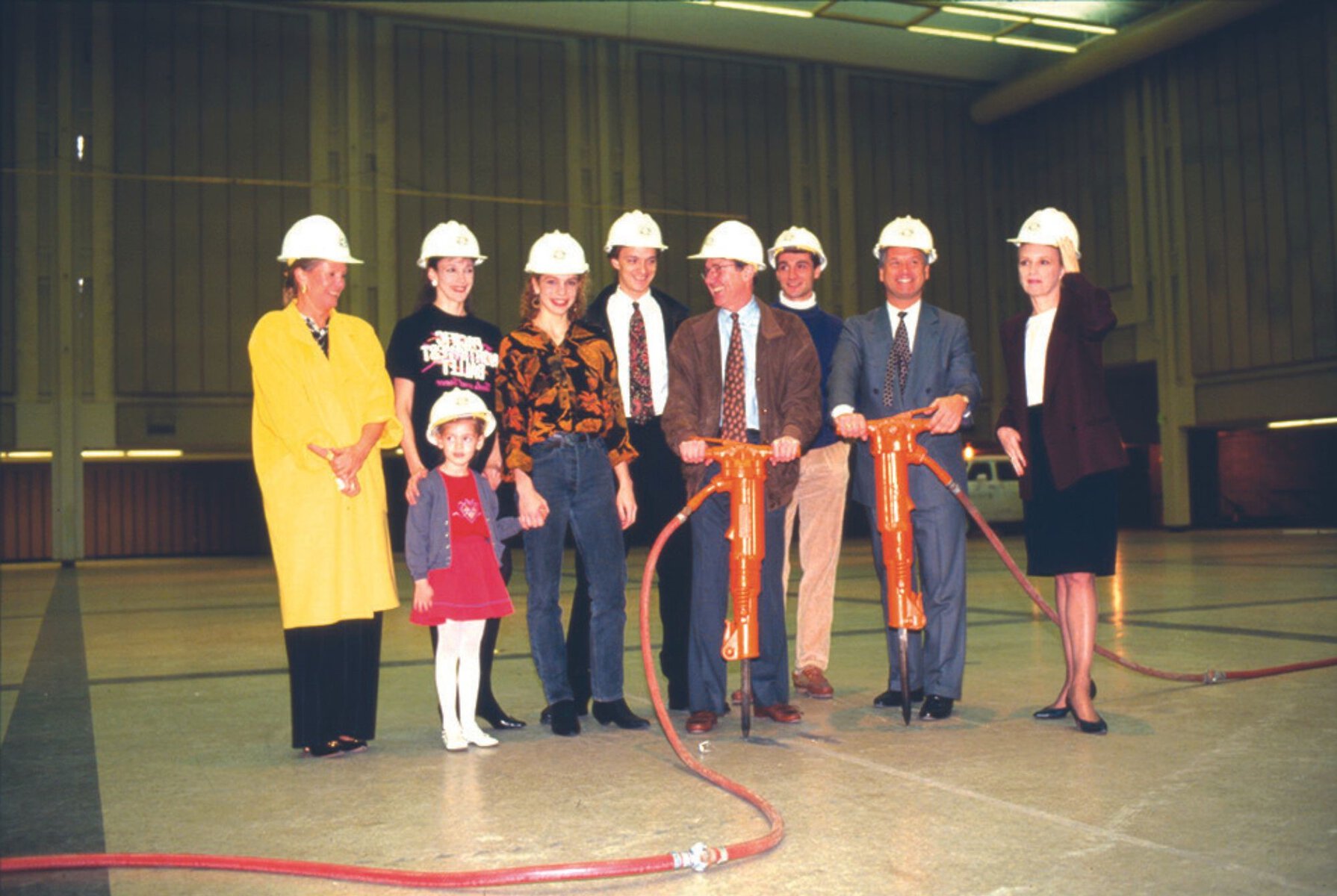 In the early 90s, PNB finished a project they had been working on for nearly a decade: they moved into the completed Phelps Center on Seattle Center campus (the former site of the 1962 Seattle World's Fair) on January 10, 1993! Renovation construction to convert the Exhibition Hall began in March of 1991 after Seattle Center's director Ewen Dingwall proposed the construction project to PNB's leadership.
The newly-renovated building was a major upgrade from PNB's previous space, the Good Shepherd Center. Measuring 52,300 square feet, there was ample room in the building for dance studios, administrative offices, the costume shop, and more. The Phelps Center was named in honor of long-time board members Sheffield (1921—2006) and Patricia Phelps (1922—1990), who both played crucial roles in PNB's history. Notably, Sheffield Phelps helped recruit artistic directors Kent Stowell and Francia Russell and Patricia Phelps established the Pacific Northwest Ballet School Scholarship Fund. It's fitting that the Phelps Center, which encompasses nearly all of PNB's operations to this day, was named after two individuals who supported PNB so holistically.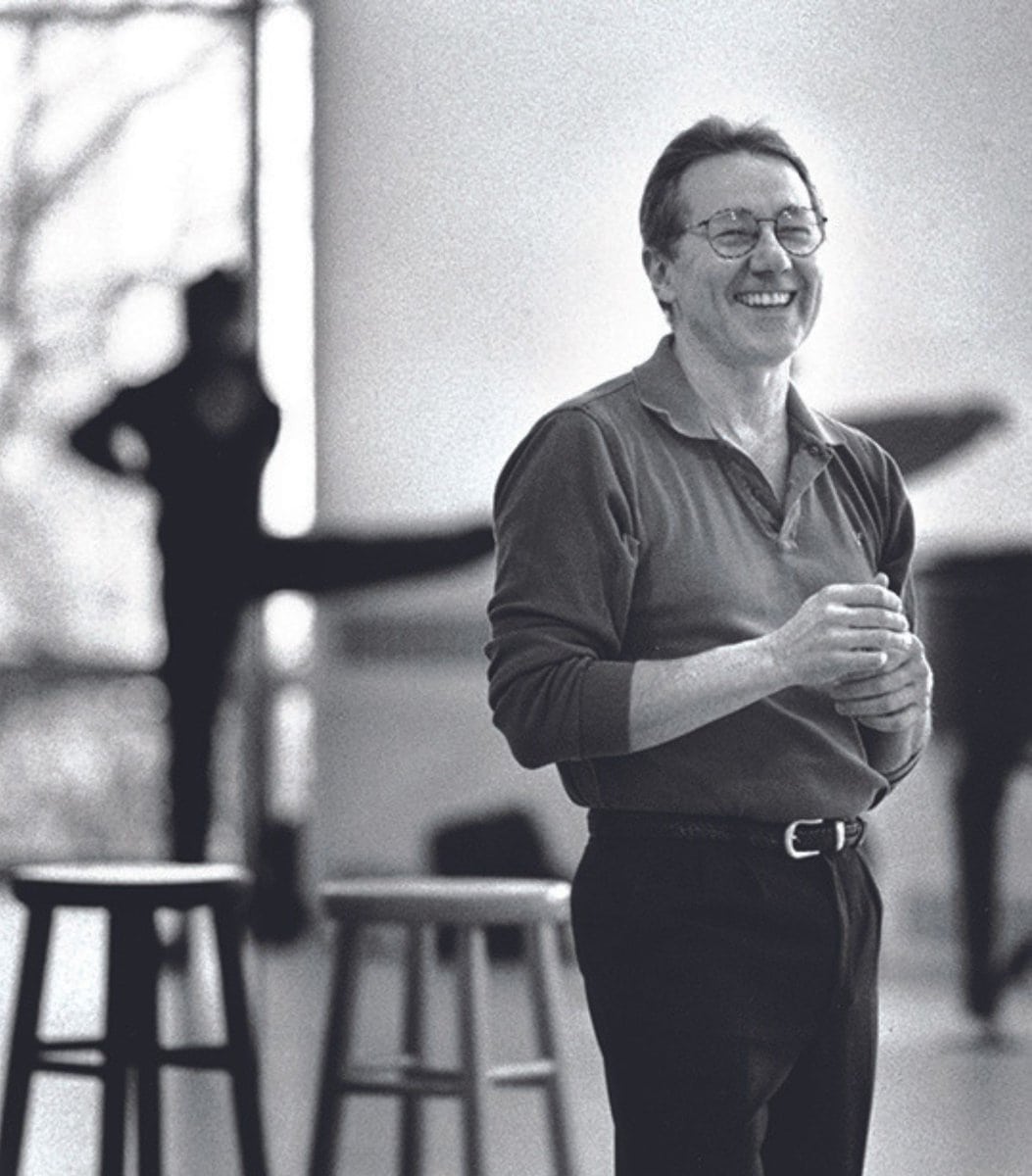 During the construction of the Phelps Center, PNB was awed by the width and depth of the Seattle community's support. $11 million was raised to fund the Phelps Center; the most extensive PNB fundraising campaign at that time. Principal dancer Louise Nadeau said the completion of the Phelps Center, "really energized everyone. There was such a pride to be in this beautiful building that was created for dance. We also felt a vote of confidence from the community – a sense of our being something special…." Artistic director Kent Stowell said "This was a community effort. All the people, including the staff, students, and parents as well as the larger community, gave so much. I'm so proud of what they have done." 
Encouraged by their generous audience, PNB was ready to take on exciting new projects and give back to the city of Seattle. PNB began a number of outreach programs in the '90s including DanceChance, DISCOVER DANCE, and Second Stage. These three programs are still an important part of PNB, PNB School, and our I.D.E.A. (Inclusion, Diversity, Equity, and Accessibility) efforts today. 
The first of these programs, DanceChance, the brainchild of PNB artistic director Francia Russell, was launched in 1994. DanceChance aims to "enrich students' lives through ballet, cultivate diversity in PNB's company and School, and train the next generation of ballet dancers." Public school students are introduced to ballet, and those who show aptitude and interest are offered the opportunity to take classes at the PNB school. Serious ballet training is a very expensive after-school activity and requires a lot of parental support. These barriers make it difficult for many young people to pursue ballet seriously. DanceChance seeks to make the PNB school and high-quality ballet instruction more attainable by offering full-scholarship ballet training twice a week, dancewear, shoes, transportation, and complimentary tickets to PNB performances. Since its launch in 1994, many DanceChance participants have gone on to professional dance careers and even joined PNB's company. 
DISCOVER DANCE, another of PNB School's dance education programs was launched in 1997. While DanceChance focuses on making dance training at PNB School more accessible, DISCOVER DANCE focuses on dance education in local Seattle area schools. DISCOVER DANCE "provides high-quality, standards-based dance education and world-class professional dance resources to schools that otherwise offer little or no dance instruction." While participating in DISCOVER DANCE, students create their own dance integrating other classroom lessons, perform at McCaw Hall, and meet dance professionals from all areas of the organization, from principal dancers to marketing staff. In 1997, DISCOVER DANCE began by partnering with three organizations: Miller Community Center, Mt. Zion Baptist Church, and Rainer Beach High School. Since those early days, over 20,000 Seattle area public school students have participated in DISCOVER DANCE, and in 2023, PNB collaborated with 25 classrooms in 10 different schools.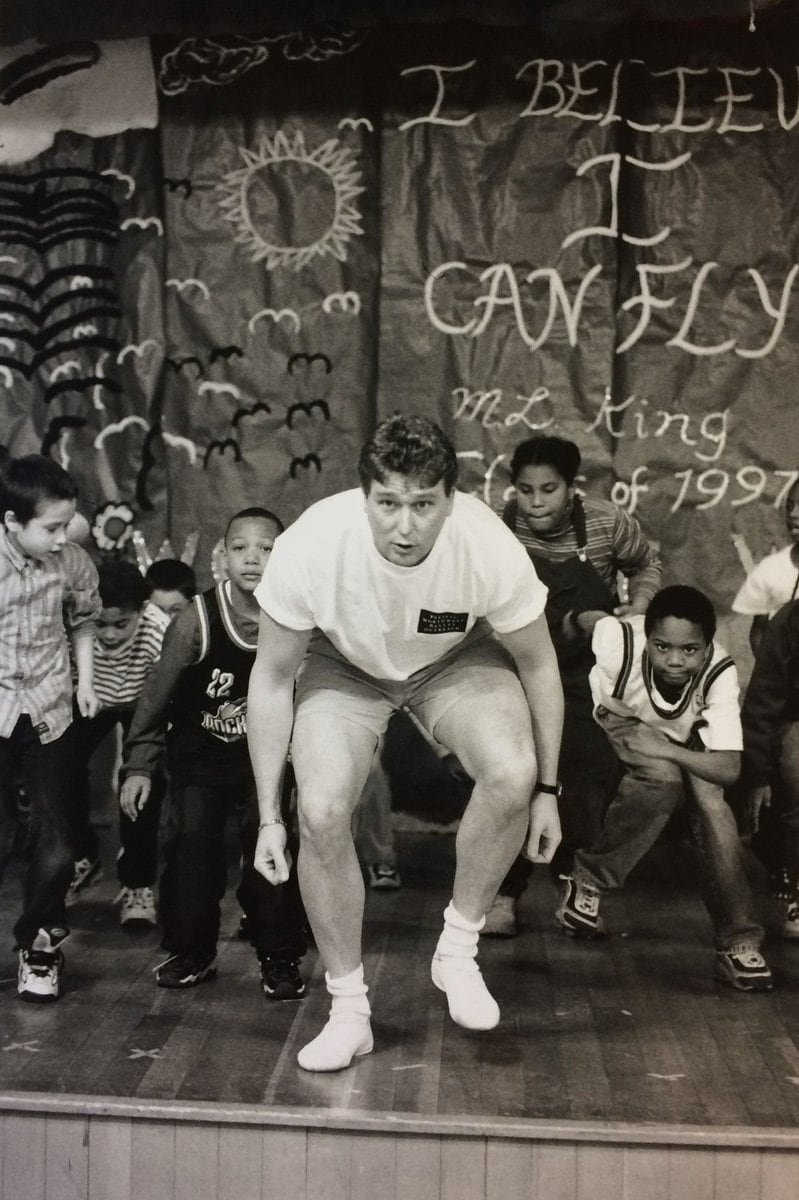 In the late 90s, PNB launched another educational program, called Second Stage. This program, which began in 1999 has grown to become a multi-faceted career transition program for dancers. PNB Board member and retired NFL linebacker Rick Redman (1942—2022) conceived of the idea along with PNB principal Maria Chapman. Redman was familiar with the early retirement many professional athletes face, as well as the struggle of transitioning to another career after spending an immense amount of time, resources, and energy into the training a world-class athlete requires. This struggle was something dancers and football players shared, and so Second Stage was born. Second Stage provides scholarships, mentorships, career counseling, and more for PNB dancers, enabling them to move from a professional dance career to a more traditional one with grace. 
While PNB launched many outreach programs focused on their local community in the 90s, they also turned their sights worldwide with international tours. Although they had gained a new building with the completion of the Phelps Center, PNB was still struggling with their performance venue. During the majority of the 90s, they shared the Seattle Opera House with the Seattle Symphony and the Seattle Opera. Splitting the theater with two other major performing arts organizations made it difficult to get enough performances on the calendar to keep the company dancers satisfied (and to balance the budget). To meet this need, PNB toured widely in the 90s, including to the Melbourne Festival of the Arts in 1995, to the Edinburgh Festival in 1998, and to Sadler's Wells in 1999.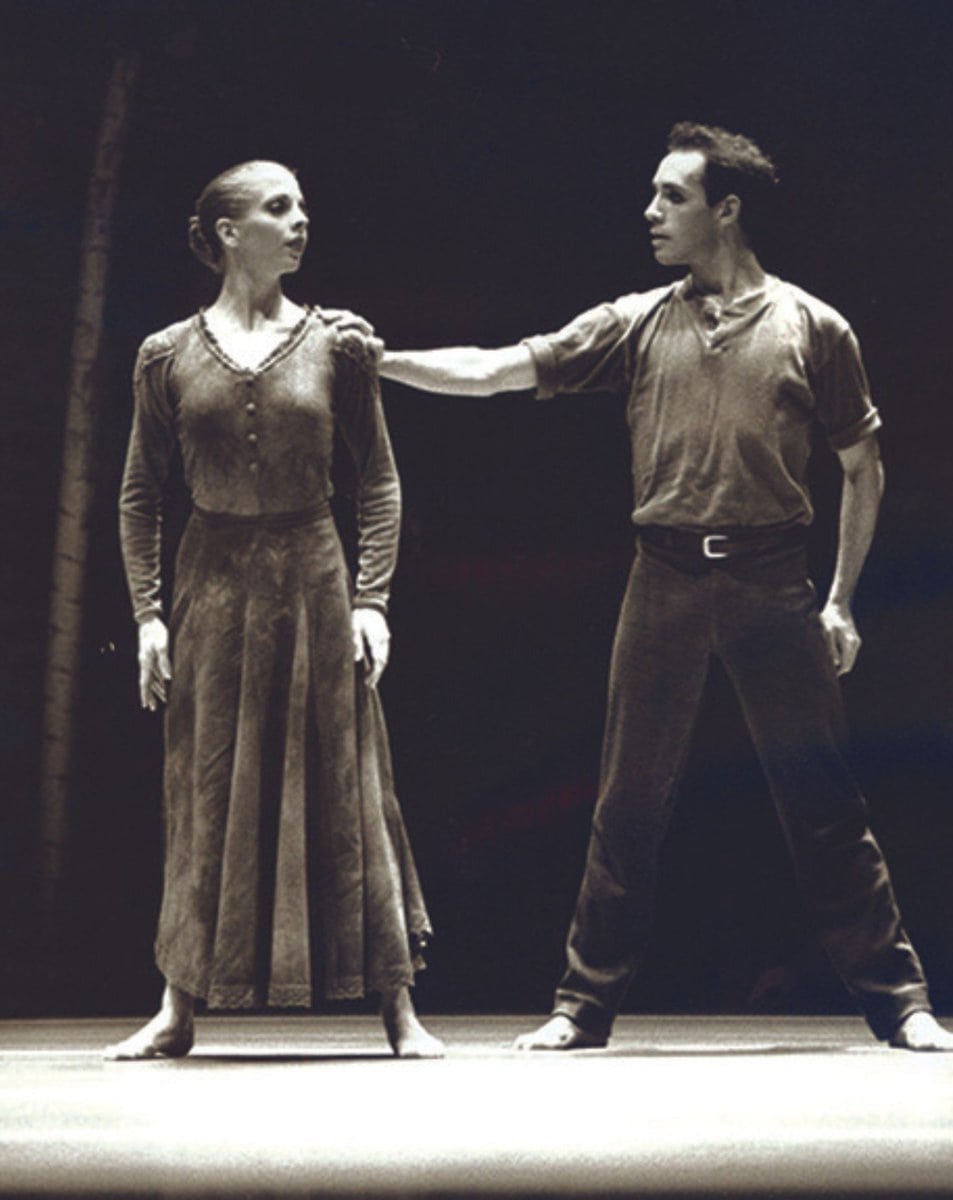 PNB's tour to the New York City Center stage in October of 1996 had the entire company on the edge of their seats. New York is a nucleus for ballet companies across the globe, and PNB was eager to show that, they had what it takes to wow the Big Apple audiences. Additionally, PNB had to pay for everything from travel to production costs on this second New York tour, and they ended up spending about $275,000. This tour was a big economic investment, and the board and the administrative staff were hoping it paid off!
To everyone's relief, the City Center tour was a triumph. There were write-ups of PNB's performance in the New York Times, The Wall Street Journal, the London Financial Times, and more. Of all the critics, esteemed dance writer Deborah Jowitt said most touchingly, "I'd forgotten what it was like to fall in love with a ballet company." The New York tour led to record sales at home and helped PNB gain $550,000.00 from various grants. 
The 90s were an important decade for PNB, as we established our reputation worldwide and began our outreach initiatives. Also in the 90s, beloved principal dancer Lesley Rausch attended her very first summer course at PNB School. Lesley would go on to wow audiences with her artistic range and act as a mentor to PNB students and company members. Lesley will be retiring after 21 years with the company at the end of this 50th anniversary season.
Sources: Becker, Paula. "Pacific Northwest Ballet." Historylink.org. June 20th, 2012. https://www.historylink.org/file/10135; Beers, Carole. "Patrica Phelps, Leading Patron of Ballet and the Arts in NW." Seattle Times. May 10th, 1990. https://archive.seattletimes.com/archive/?date=19900510&slug=1070987; Beers, Carole. "PNB Moves Into The Phelps Center." Seattle Times. January 12, 1993. https://archive.seattletimes.com/archive/?date=19930112&slug=1679602; Chiarelli, Lia, Sheila Dietrich, Doug Fullington, and Ellen Walker. "40th Anniversary Program." September 2012; Johnson, Wayne. Let's Go On: Pacific Northwest Ballet at 25. Seattle: Documentary Book Publishers. 1997; Martin, Jonathan. "Sheffield Phelps, a leader in arts, business." Seattle Times. April 30, 2006. https://archive.seattletimes.com/archive/?date=20060430&slug=phelpsobit30m; PNB files. "Discover Dance History & Facts 1998-2015." Last modified May 25th, 2023; PNB files. "PNB I.D.E.A. Timeline." Last modified May 25th, 2023.
Photos: Wendy Griffin, Colleen Neary, Erica Fischbach, Thordal Christensen, Kent Stowell, Michel Mesnier, Arthur Jacobs, and Francia Russell at the Phelps Center, photo © Fitz Dent. Kent Stowell in rehearsal at the Phelps Center in 1993, photo © Kurt Smith. The first director of the Discover Dance program, Phil Otto, with Discover Dance students. A poster advertising PNB's 1999 tour to Sadler's Wells featuring Patricia Barker performing George Balanchine's A Midsummer Night's Dream, designer: Ben Kerns. Julie Tobiason and Paul Gibson in Nacho Duato's Jardí Tancat during PNB's 1996 East Coast Tour, photo © Angela Sterling.