PNB Pride Profile: Lucien Postlewaite
PNB invited employees who celebrate Pride Month to share their stories with us – we hope you enjoy.
Stories may be edited and condensed for clarity.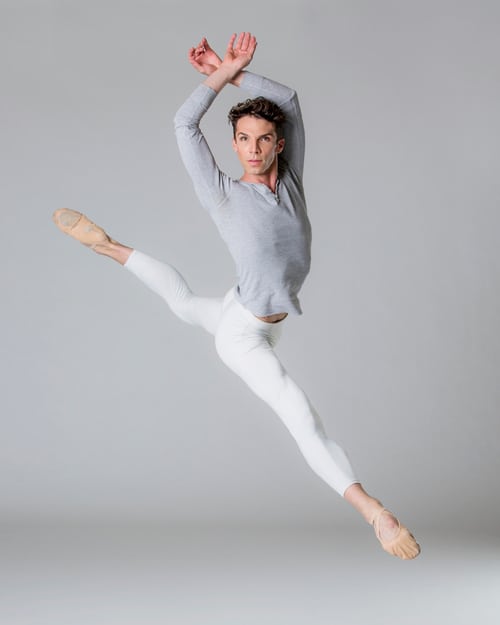 You've been connected with PNB for over 20 years – how have you seen the company and the organization evolve?
Since I joined PNB School in 2002, and company in 2003, I've witnessed the company grow a lot in its inclusion work, both behind the scenes, internally, and externally through the press and social media. I am happy to see this growth. For most of the beginning of my career, I struggled with feeling like as a performer, my gayness was not a celebrated part of my humanity. Contrary to a popular assumption, I found the ballet world to be very heteronormative. As an aspiring male-bodied dancer, I wanted to dance the major roles, which are all lords, princes, and noblemen who have heterosexual love interests. I've heard comments in the past like, "we didn't cast him because he dances too gay," (whatever that means) and I never wanted my career to be dictated by my sexuality, so I molded myself to please directors, audiences, and choreographers. I felt that in order to be seen for the lead roles, I had to minimize my gayness, and present myself as a believable Disney prince. I spent years minimizing parts of myself to fit in to this industry. I was particularly inspired by dancers like James Whiteside and Harper Watters who celebrated their gayness as part of their entire identity and have incredible careers. For me, they opened a door to embrace all of me in this profession and helped me shed the fear that if I let people see all of me, that I wouldn't be cast of have the career that I have.
Our industry has evolved a lot since I was a young dancer, and PNB has become a wonderful example of how the centuries old tradition of ballet can evolve for the better.
In 2019 you were invited to organize a commission for the Fire Island Dance Festival's annual gala. Can you share a bit about that experience?
Organizing a new commission for the Fire Island Dance Festival was a huge honor, and deeply rewarding. I really enjoyed being in the organizational role of facilitating the creation of a new work. It also felt really good to be a part of a dance organization that focuses on giving back to the queer community. This was one of the first times that I felt that throughout the whole process from organization, finding a choreographer, casting, funding, to performing, I was not only encouraged to be my "whole" self, but that I was in an environment where that was celebrated. I am deeply grateful for this experience, and hope to work in this way again.
Around PNB you are known to be an enthusiastic collaborator. What have been some of your favorite PNB collabs?
I recently collaborated with Macrina Bakery to make a dessert which was featured at PNB's Spring Spark fundraiser, and sold at Macrina locations. I loved the opportunity to work in a professional kitchen and give one of my other passions, my palate and food, a vehicle to explore. Ballet has connected me with many professionals who are exceptional at what they do. I am so inspired by people who are really good at what they do. I learn from them and I feel lucky that my career has allowed our paths to intersect. Having the opportunity to collaborate with some of the people who inspire me is an intoxicating feeling. There's nothing like it when creatives get their heads together in collaboration.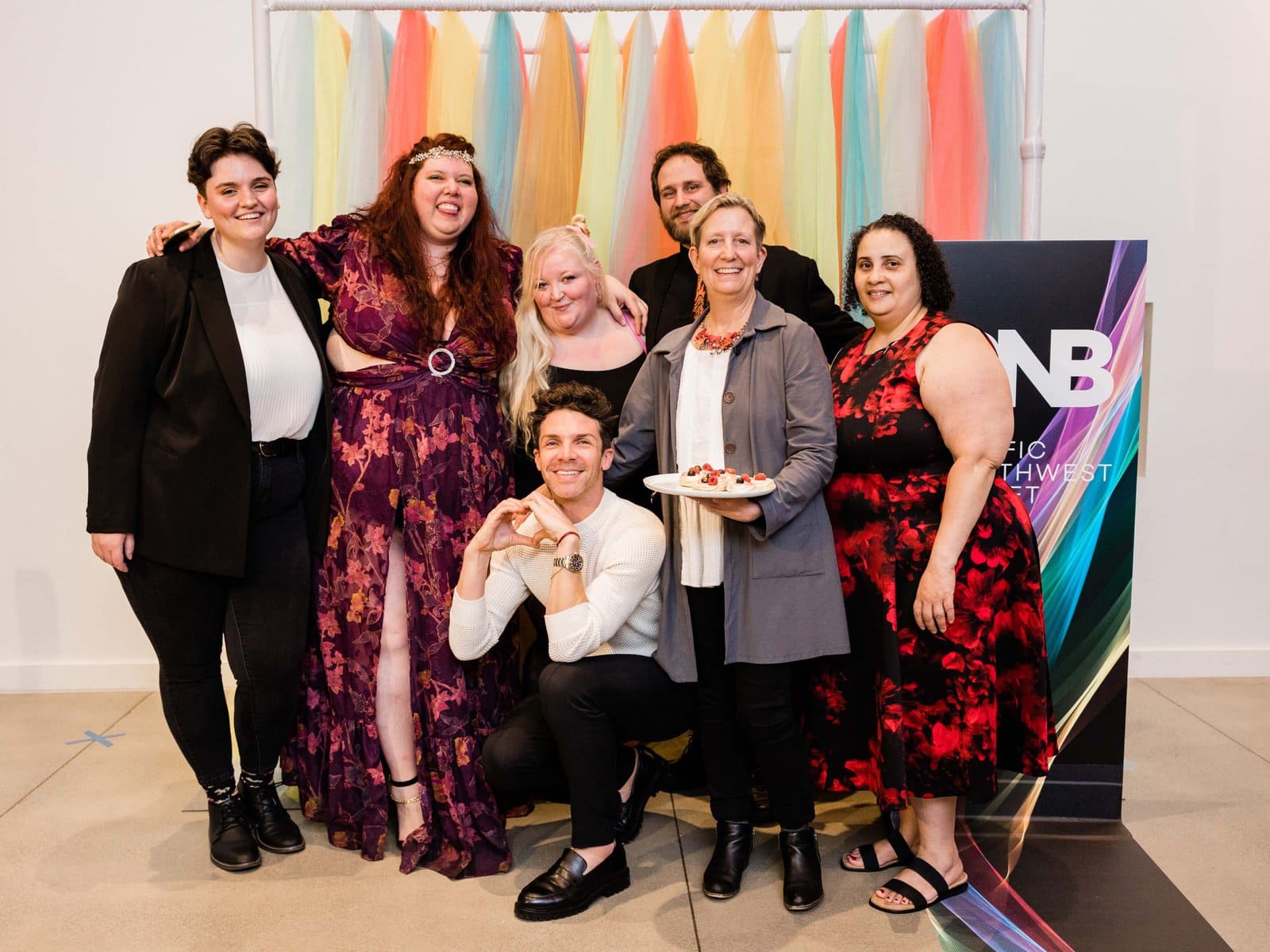 Photos: Lucien with Macrina Bakery collaborators at PNB's Spring Spark fundraiser (above); Lucien's THE BATCH kombucha in action (below)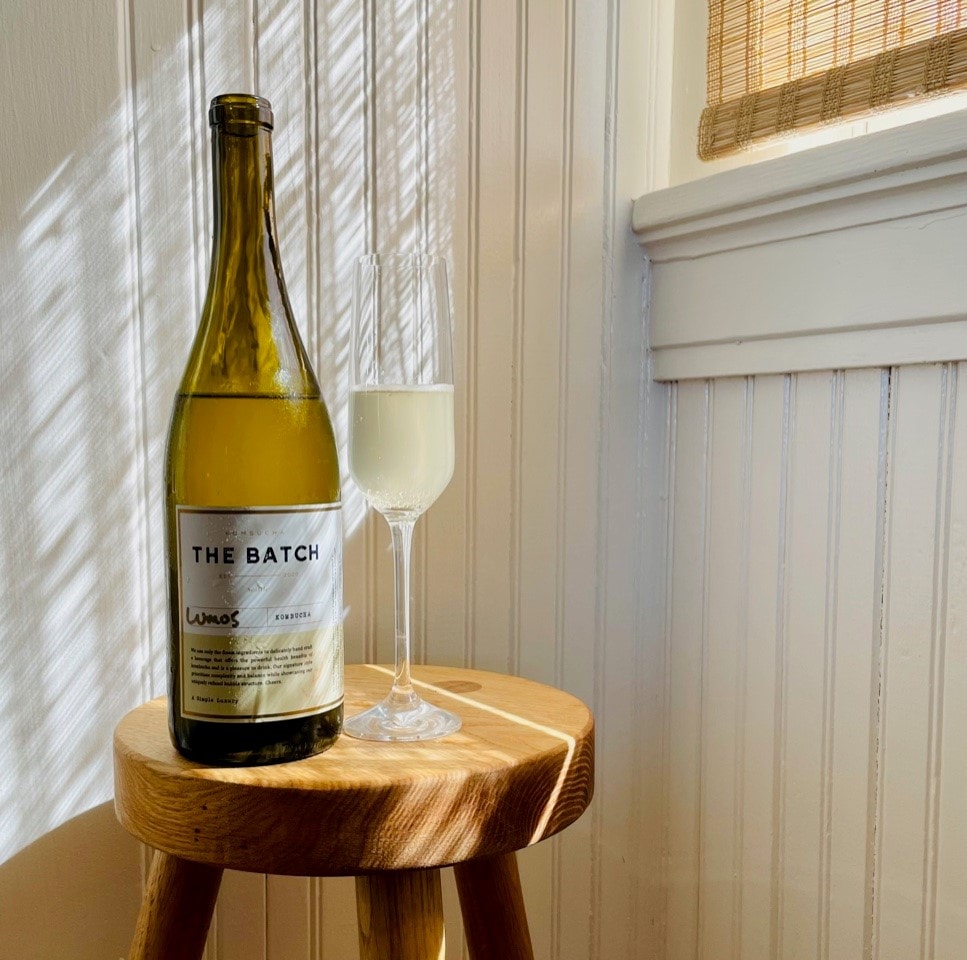 Outside PNB, you have a kombucha business (THE BATCH) with many fans and a frequent waitlist! How did you get into making small-batch kombucha?
I founded THE BATCH in 2020 when we were all in lockdown and the future of performing arts, and everything really, was unclear. I've been a fermentation geek for over 10 years, and it all began when I started making my own kombucha while living in Monaco. Now, I make my own soy sauce, miso, and hard cider, and love to play with fermentation. During lockdown, I started making kombucha for my neighbors and THE BATCH grew from there. Pretty quickly, the business grew out of my kitchen into a commercial production space. I'm very pleased to see how many people enjoy THE BATCH; it is a way for me to share my passion for healthy living and unique exotic flavors. Miro Tea in Ballard currently has rotating flavors on tap and I am currently only working with wholesale clients, as my performing schedule keeps me too busy to maintain the direct to consumer arm of the business, but I see a bright future for kombucha lovers, and THE BATCH.
What does Pride month mean to you?
For me the concept of pride is ever evolving and adapting as a reflection of how our society evolves. There was a time where my community had to fight really hard to be accepted and for equal rights. The struggles that the queer community faces are evolving, but the message of Pride, the celebration to be who you are, has remained consistent. Unfortunately, our country is still a dangerous place for many of our citizens. Conservatives continue to attack the "gay agenda," but for me, the community who needs all the support we can give is the trans community. This country was built to provide liberty and justice to all its people, and in my opinion, if you can't stand up for your most disadvantaged citizens, you don't really believe in the foundational ideals this country was built on. I encourage anyone reading this to think about how they can reach out, lend a hand, and lift up the people around them who have less.
I am grateful that PNB is sharing the stories of its queer employees. This month we highlight the LGBTQ+ community, but we live our stories every day, our struggles, or wins, our quiet moments. Let's continue to have the courage to build connections, community and share stories in the face of a world that left unchecked will try to minimize and silence our existence.
Lucien Postlewaite (he/him) is from Santa Cruz, California. He trained on scholarship at the School of American Ballet and Pacific Northwest Ballet School. While a Professional Division student at PNB School, he received a Level II Award for ballet in the National Foundation for the Advancement in the Arts' 2003 Arts Recognition and Talent Search. Mr. Postlewaite joined Pacific Northwest Ballet as an apprentice in 2003, was promoted to corps de ballet in 2004, soloist in 2007, and principal in 2008. He was a 2008 recipient of a Princess Grace Award. In 2012, Mr. Postlewaite joined Les Ballets de Monte-Carlo, and in 2017, he re-joined to PNB as a principal dancer.
While at Les Ballets de Monte-Carlo, Mr. Postlewaite performed leading roles in Forsythe's New Sleep; Kylian's Bella Figura and Gods and Dogs; and Maillot's Altro Canto, La Belle, Cendrillon, Faust, LAC, Scheherazade, and Vers un Pays Sage. He originated leading roles in Pontus Lidberg's Summer's Winter Shadow and Maillot's Casse-Noisette Compagnie, Choré, and Entrelacs.
Mr. Postlewaite has performed as a guest artist with New York City Ballet on seventy-fifth anniversary gala for the School of American Ballet. He is featured in the film Casse-Noisette Compagnie by Jean-Christophe Maillot. In 2019, Mr. Postlewaite was invited by the Fire Island Dance Festival to organize a commission for its annual gala (Garrett Smith's Continuum). In addition to performing on galas worldwide, Mr. Postlewaite has performed Petipa's Paquita and Wevers' A Midsummer Night's Dream with Reiko Yamamoto Ballet Company in Japan, and Balanchine's Tarantella with Los Angeles Ballet. He is an original member of Olivier Wevers' Whim W'Him.
In 2021, he choreographed this is US, now for PNB's NEXT STEP.