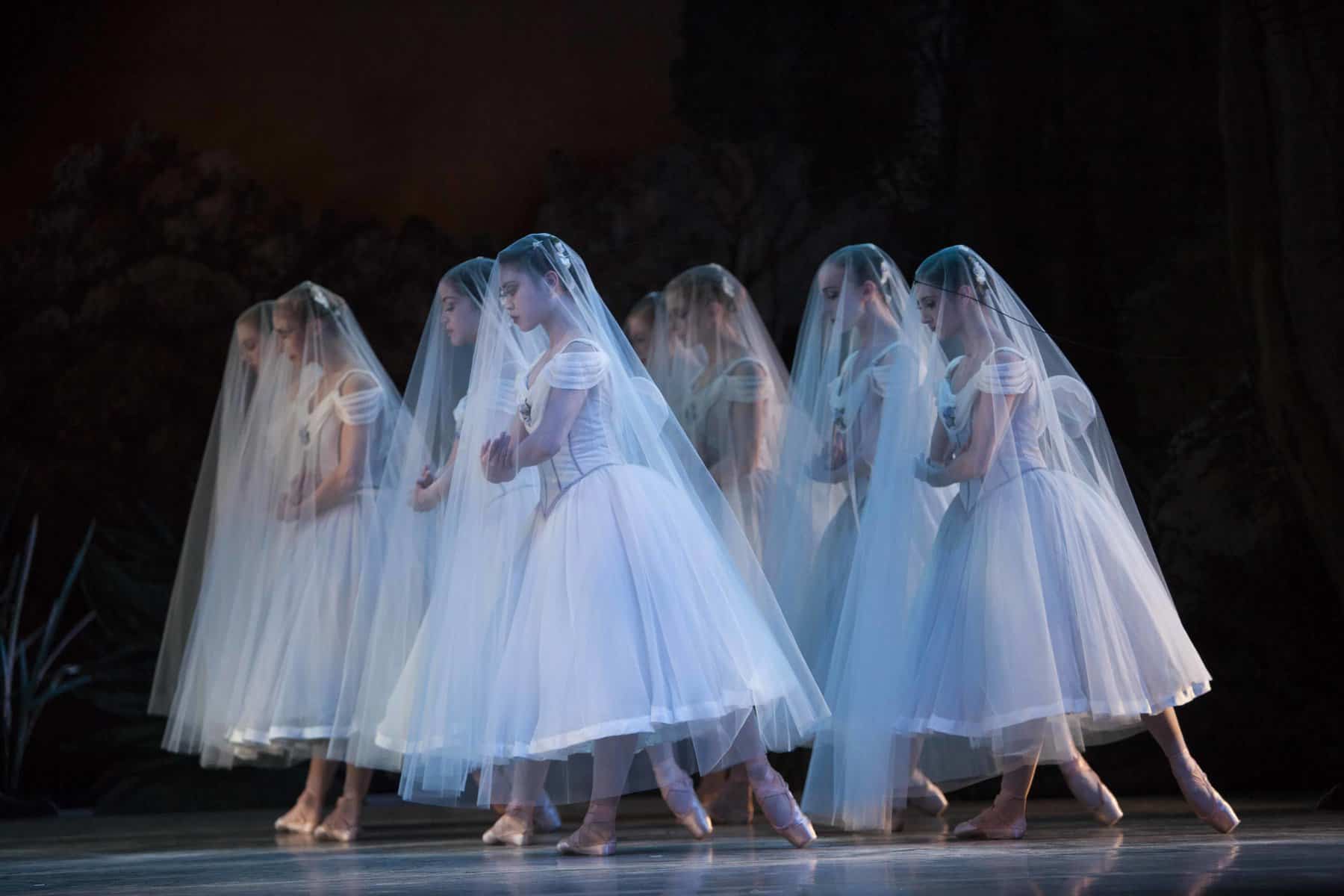 It's almost Halloween and here at PNB, we're reflecting on our most spine-tingling ballets. Keep scrolling for these pieces that are guaranteed to get you into the Halloween mood!
And as a bonus, we put together a playlist of music from these works to keep ghostly good times going!
3. Giselle
Ballet's best Romantic-era ghost story. Giselle has everything: romance, royalty in disguise, and a troupe of ghost women hauntingly floating through a forest. First performed in 1841, Giselle remains a popular ballet that is performed every season by major companies on both sides of the Atlantic and the subject of several popular books. The ballet is also widely available on commercial DVDs, and some of its scenes have even been featured in Hollywood films.
Of course the title character Giselle, the very embodiment of the contrast between the real and unreal worlds, surely accounts for much of Giselle's enduring popularity. She is a sparkly, high-spirited young person whose ghostly return in Act Two as a Wili makes for a stunning character transformation. Giselle is a great ballerina role, and through the generations, it has inspired many famous interpretations—by Pavlova, Karsavina, Spessivtzeva, Alonso, Ulanova, Markova, Fonteyn, Verdy, Fracci, among others—which have become legendary in the annals of the stage.
Read Giselle scholar Marian Smith's full program notes on our repertory page.
2. La Sonnambula

Former PNB Dancer Louise Nadeau in La Sonnambula. Photo © Angela Sterling.
La Sonnambula (The Sleepwalker), originally called Night Shadow, reveals Balanchine at his most mystical, operatic, and European. Set in a darkly mysterious masked ball, the one-act ballet tells the story of a Poet who pays suit to a Coquette, who is escorted by the Baron. After a series of exotic divertissements, the elegantly attired guests go in to supper, leaving the Poet to himself. In a moment, an apparition in white enters. She is a beautiful Sleepwalker. Entranced, the Poet tries repeatedly to wake her, but she eludes him. The jealous Coquette informs the Baron of the Poet's advances to her; enraged, he stabs the Poet. The Sleepwalker reappears to bear the Poet's lifeless body away.
PNB Dancers in La Valse. Photo © Angela Sterling.
George Balanchine's La Valse is like the classic ballroom scene in Kent Stowell's Cinderella gone wrong. The main character is dancing the night away when everything around her freezes! A man in black emerges from the crowd to dance with her and give her gifts of black gloves and jewelry.
PNB Dancers Louise Nadeau and Olivier Wevers in La Valse. Photo © Angela Sterling.
La Valse, with its dramatic suggestiveness and atmosphere of decadent romanticism, struck some viewers as a surprising departure for Balanchine. But, in fact, as dance writer Claudia Roth Pierpont reminds us, throughout his entire career "the romantic and dramatic…existed side by side with Balanchine's more renowned abstract classicism." As for the choreographer's attitude towards Ravel's music: he had always loved it; he choreographed at least nine ballets to it; and, judging that, after Stravinsky, it was Ravel who had given the Western world the most considerable body of contemporary music suitable for theater, in 1975 he staged a festival at Lincoln Center devoted exclusively to the composer's work.