The Man behind the Music of Midsummer: Felix Mendelssohn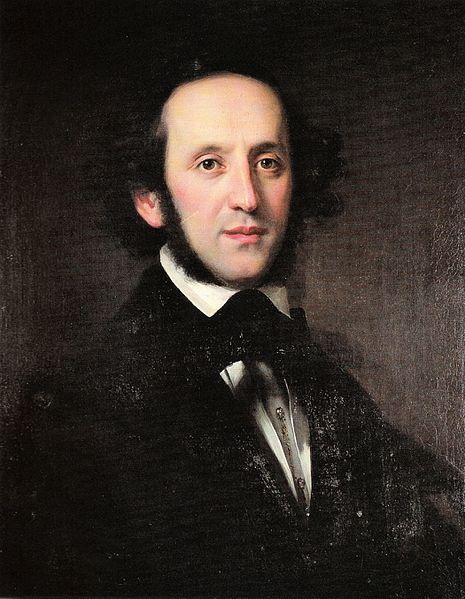 In just a few short weeks, the bright, staccato strings and the playful, blustering brass of Felix Mendelssohn's Op. 21, the overture of George Balanchine's A Midsummer Night's Dream, will fill McCaw Hall. Mendelssohn (pictured to the left) was just 17 when he wrote this famous overture. He went on to live a bustling life full of creating and performing music. Eduard Devrient described Mendelssohn as "always bubbling over like champagne in a small glass." Read on to learn more about this man, who was just as vivacious as his compositions.
Mendelssohn was born on February 3, 1809, to Jewish parents in Hamburg, Germany. During this time in Germany, people questioned if equal rights should be extended to the Jewish population. Perhaps because of these social pressures, Mendelssohn's parents chose to baptize the entire family into the Lutheran church, and the family took on the last name Bartholdy. Nevertheless, Mendelssohn's Jewish heritage would have a serious impact on his musical legacy. Richard Wagner singled out Mendelssohn in his infamous essay "On Jewishness in Music," saying his music is "sweet and tinkling without depth." During the Nazi era, Mendelssohn's music was banned and his name was erased from many history books. Although the majority of the classical music world no longer holds these damaging anti-Semitic beliefs and practices, the destruction of Mendelssohn's work and the critiques of an influential composer like Wagner have kept many of his works from being published in modern times.
Despite Mendelssohn's posthumous unpopularity, he was a star during his life. Mendelssohn was a child prodigy and was often compared to Mozart while he was alive. At just the age of six, Mendelssohn started taking piano lessons and composition lessons from his mother. Soon, he began taking lessons outside the home from Ludwig Berger and Carl Friedrich Zelter. Mendelssohn then began performing for many of the wealthy elite of Berlin, where his family lived, and writing his own compositions. In 1826, Mendelssohn wrote the famous overture of A Midsummer Night's Dream after reading the German translation of the Shakespeare play. This overture premiered in Stettin (now Szczecin, Poland) on February 20th, 1827 as part of a concert that also included Mendelssohn's first public appearance as a performer. At the age of 18, Mendelssohn had already established himself as an accomplished composer and performer.
(Picture: The 1874 printing of Mendelssohn's Op. 61, A Midsummer Night's Dream)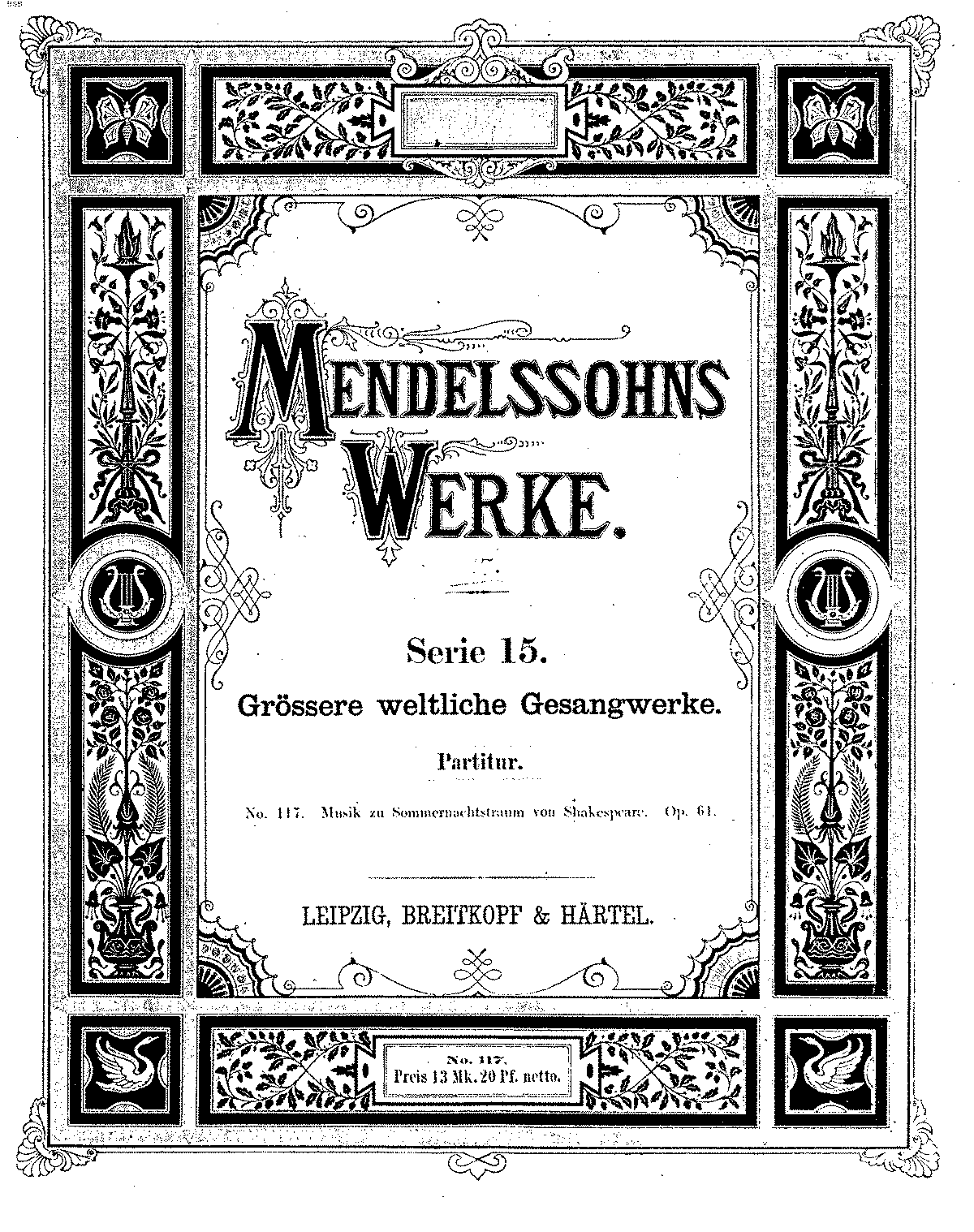 Mendelssohn began the next step of his career when he became a touring conductor, traveling to Scotland, England, Germany, and Austria. On March 11, 1829, he conducted Bach's St Matthew's Passion in Berlin with huge success. This concert not only established Mendelssohn as a conductor but also launched Bach back into popular consciousness. Mendelssohn then went on to conduct in England where he became very popular. He published  Lieder Ohne Worte, his first book of piano music, there and went on to visit England ten times in his life. Even Queen Victoria was a fan, and her daughter, the Princess Royal, chose Mendelssohn's Wedding March to play at her wedding, beginning a long tradition of other brides playing that same song. During his journeys, Mendelssohn was inspired by his surroundings and wrote some of his most popular works like his Scottish and Italian symphonies.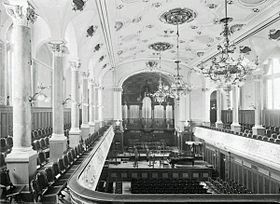 After busy years of traveling, in 1835 Mendelssohn settled down to become the conductor of the Gewandhaus Orchestra in Leipzig. While in Leipzig, Mendelssohn befriended Frederic Chopin and Robert Schumann. In 1843, his relationship with Schumman took on professional ties when Mendelssohn founded a conservatory of music in Leipzig (pictured to the left). Together, he and Schumann taught composition there. This conservatory was the first of its kind, and it is still a thriving educational institution today! During this time, Mendelssohn began writing more choral work and oratorios. While living this (slightly) less hectic lifestyle, Mendelssohn also took the time to work on his Violin Concerto in E Minor – Major, which he developed over the course of six years.
At this point in his life, things were going well for Mendelssohn. He had a thriving conductor position, a teaching position, and time to compose new work. Tragically, his sister Fanny (pictured to the right) passed away in May of 1847. Fanny was more than just a sister to Mendelssohn; she was also a musical collaborator and a close friend. Mendelssohn would readily admit that Fanny, who was a composer of her own, was a better piano player than he was. Mendelssohn was deeply affected by her death and passed away shortly after. Though he was only 38 years old at his passing, his life was brimming full of accomplishments. Today, we can experience Mendelssohn's liveliness and humor through the vibrant music he left behind.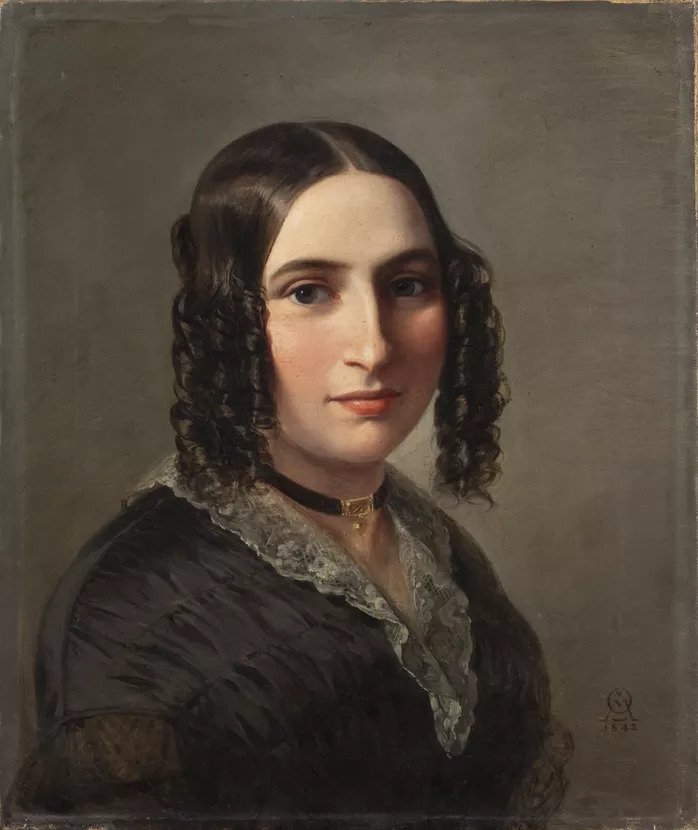 The PNB Orchestra is excited and honored to play Mendelssohn's A Midsummer Night's Dream once again when the company performs the whimsical ballet choreographed by George Balanchine in April. Can't wait till then to experience Mendelssohn's music? Check out this playlist we put together that will introduce you to some of Mendelssohn's work!