By Benjamin Griffiths
The men of Pacific Northwest Ballet comprise a group of unique artists, who draw on their life experiences, rigorous training, sheer athleticism, and passion to create powerful and honest art through their dancing. Take a deeper look at the depth of talent among our male ranks in the profiles of Karel Cruz, Jonathan Porretta, Lucien Postlewaite, Jerome Tisserand, Kyle Davis, and Dylan Wald.
"When a dancer comes onstage, he is not just a blank slate that the choreographer has written on. Behind him he has all the decisions he has made in life… each time, he has chosen, and in what he is onstage, you see the result of those choices. You are looking at the person he is, and the person who, at this point, he cannot help but be… Exceptional dancers, in my experience, are also exceptional people, people with an attitude toward life, a kind of quest, and an internal quality. They know who they are, and they show this to you, willingly."
-Mikhail Baryshnikov
---
Karel Cruz
Training: Escuela Vocacional de Arte in Pinar del Rio, Cuba; Escuela Nacional de Arte in Havana, Cuba.
Role Models: Carlos Acosta, Jose Manuel Carreno, & Fernando Bujones
Favorite Roles:
Basilio in Don Quixote (Marius Petipa, Alexander Gorsky, Alexei Ratmansky)
Prince Siegfried in Swan Lake (Kent Stowell)
Albrecht in Giselle (Jean Coralli, Jules Perrot, and Marius Petipa, with additional choreography by Peter Boal)
"My favorite roles are usually classical ballets because of my classical training. It was always a goal to one day be able to do a classical role. We worked so hard training to achieve that, so to be able to dance some of my favorite roles like Prince Siegfred, Basilio, and Albrecht, has been a dream come true."
Strengths & Weaknesses: I would say one of my strengths is turning. One weakness is moving fast because of my height.
"I think one of the things that has made me a better dancer is that I have had the opportunity to dance in different companies. That has made my career richer through experiencing different styles and techniques. Being able to share the stage and studio with different dancers and learning from them has been such a benefit."
---
Jonathan Porretta
Training: Totowa Dance Company, For Dancers Only; School of American Ballet; Attended summer courses at New Jersey Ballet School & American Ballet Theater.
Role Models: Mikhail Baryshnikov will always be a god to me. Edward Villella and Patrick Swayze have also been idols of mine since I was a little boy… And when I began training at SAB, Peter Boal and Tom Gold quickly became new idols of mine.
Favorite Roles:
The Rite of Spring (Glen Tetley) "I was still a soloist with the Company when we performed this ballet, and this role was huge for me. It's a beast of a part in that it's very athletic and physically demanding. I'm drawn to roles like that… the ones that really push you to your limits with stamina."
State of Darkness (Molissa Fenley) "It is a 34-minute solo, which is also danced to the Rite of Spring music. It is very intense and dramatic, pushing the dancer both physically and artistically. The challenge of being alone on stage by yourself for 34 minutes takes you on a journey with the audience that is just incredible!"
"Jonathan Porretta attacked Molissa Fenley's punishing solo "State of Darkness," performed to Stravinsky's "Rite of Spring," with his trademark electricity; it seemed, as the lengthy dance progressed, that the music had taken hold and possessed him. (A seemingly endless back bend, mid-dance, was so beautiful you wished time could stop.)"— The Seattle Times
Prodigal Son (George Balanchine) "It's such a masterpiece! I had dreamed of dancing it ever since I was a little boy. You have to match both acting and dancing in this role. Getting to perform it during my career has been such an honor."
A Million Kisses to my Skin (David Dawson) "This ballet pushes the dancers beyond exhaustion… but all the while it fills them with joy. It's one of the most beautiful and special ballets. It's a celebration of movement. It's freeing… it's magic!"
Strengths & Weaknesses: "I think my strength has always been my stamina. I love the athletic ballets that push our bodies to their limits, but I also love acting roles where I can really become a different character. My weakness has always been multiple pirouettes. I've been a consistent doubles and triples kind of dancer… but that's about it. I think it comes from having a flexible back, which makes it harder to engage my core while turning. I've been working on it my entire career, and still, 19 years later, it's not getting any easier. LOL!"
"Since I was a little boy, the stage has always been the safest place where I felt/feel the most free."
---
Lucien Postlewaite
Training: The Studio, School of Classical Ballet in Santa Cruz, CA; School of American Ballet; Pacific Northwest Ballet School Professional Division.
Role Models: Baryshnikov and Gelsey Kirkland. I didn't have much access to live ballet in Santa Cruz, so I used to watch their videos over and over.
Favorite Roles:
Prodigal Son (George Balanchine)
Faust (Jean Christophe Maillot)
Apollo (George Balanchine)
"I like the first two choreographically, as well as the fact that the characters are dealing with deep inner struggle. Apollo is so iconic and a joy to dance."
Looking toward the future, Lucien would like to collaborate with choreographers on new works in order to create favorite characters in a new way. He would also like to "sink his teeth" into the lead male spot in Jiri Kylian's Gods and Dogs.
Strengths & Weaknesses: "I've never been a big trickster, so tricks are always something for me to work on. I wouldn't call this a strength, but as I mature as a dancer, I like the sense of groundedness that I'm finding. Also, I love connecting with my partners on stage… creating a magical little world between us that only exists in that moment."
"Every struggle I've had in my life has led me back to my dancing. Ballet has given me solace and comfort at moments when everything else in my life seemed to be falling apart. Channeling that pain into my work has made positive growth out of pain. Ballet has given me so many opportunities. I've danced dream roles, discovered layers of artistry, traveled the world, met incredibly interesting people, and eaten at some of the world's best restaurants… all because of the opportunities that ballet has given me. I have given ballet my life and it has rewarded me in ways I never could have imagined."
---
Jerome Tisserand
"Jerome Tisserand is a superb dancer: He modestly embodies casual elegance."— The New York Times
Training: Paris Opera Ballet School; with Pascal Courdioux in Lyon, France; School of American Ballet.
Role Models: Mikhail Baryshnikov, Rudolf Nuryev, Manuel Legris & Nicolas Leriche.
Favorite Roles:
Afternoon of a Faun (Jerome Robbins) "The music is so beautiful and the choreography is simple, yet effective."
Diamonds (George Balanchine) "The steps fit the grand music perfectly, and even though there's no story line, it feels like you're able to convey a multitude of emotions to the audience."
In the Middle, Somewhat Elevated (William Forsythe) "It's still so relevant and impactful today despite the fact that it was created so many years ago. It's such a powerful piece… there's no holding back."
Jerome hopes to dance Apollo (Balanchine), Onegin (John Cranko) and Dances at a Gathering (Robbins) in the future.
Strengths & Weaknesses: "My strength would be my jump. As a kid I wanted to jump like Baryshnikov so I put weights on my ankles during ballet class. My weakness is adagio."
"I've learned over the years to trust my instincts when I go on stage. You can rehearse for hours on end but when you're onstage something takes over and you're left to just trust yourself."
---
Kyle Davis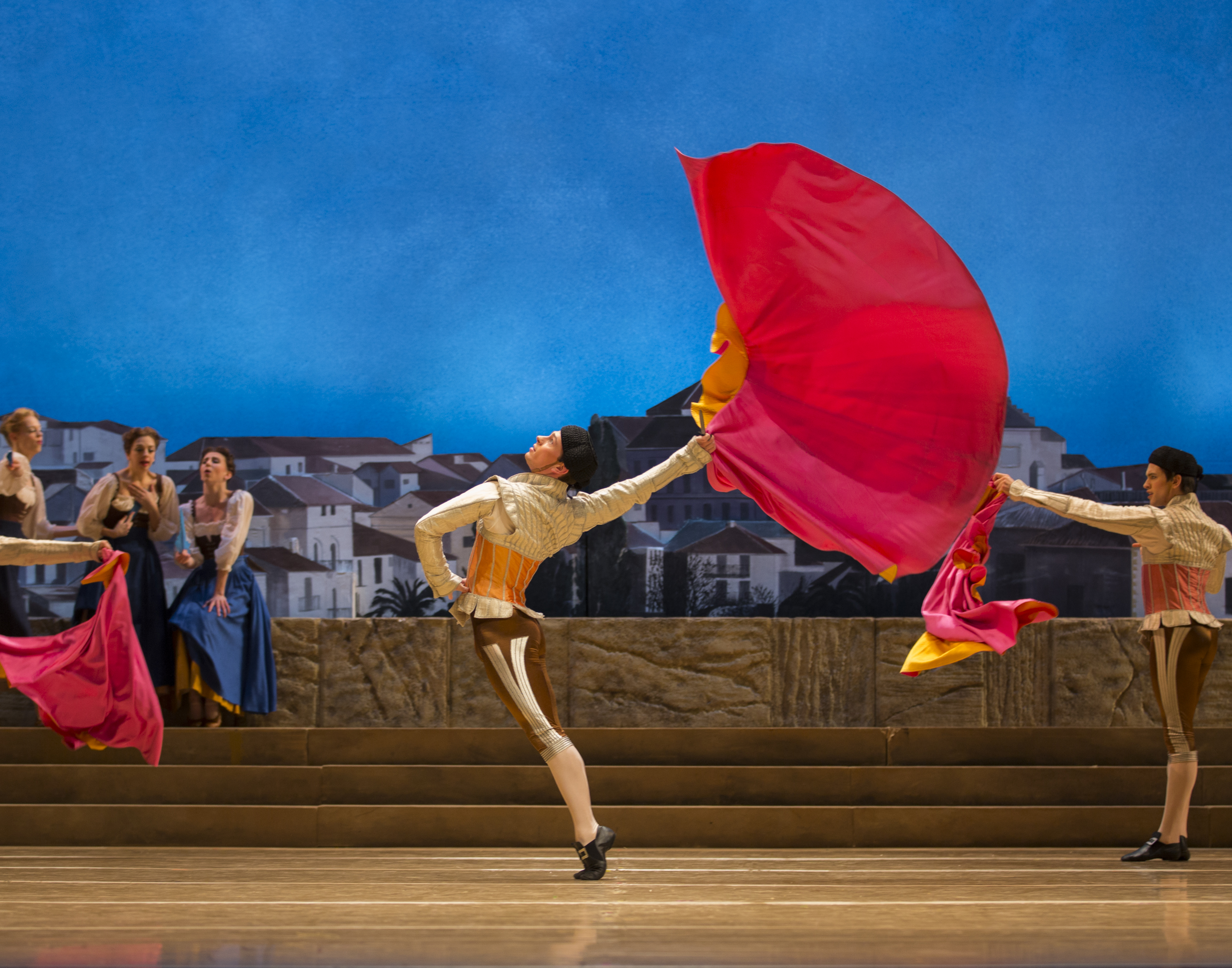 Training: I started with the Green Bay Park District, then danced with a few competition studios; Makaroff School of Ballet; The Rock School for Dance Education; North Carolina School of the Arts.
Role Models: Fernando Bujones, Mikhail Baryshnikov, & Jose Manuel Carreno.
Favorite Roles:
Oberon in A Midsummer Night's Dream (George Balanchine)
The Vertiginous Thrill of Exactitude (William Forsythe)
Divertimento from "La Baiser de La Fée" (George Balanchine)
"I enjoy roles that are so exhausting all you can do is laugh about it."
Kyle hopes to dance Albrecht in Giselle in the future.
Strengths & Weaknesses: "My strengths are pirouettes & musicality. My weaknesses are having uneven amounts of turnout on my right and left legs and a terribly trained left side. I've also gone through more injuries than can be counted on my fingers."
"In addition to dancing, I teach the Professional Division men at Pacific Northwest Ballet School. Looking at dance from the front of the room offers a different perspective, which allows me to see what needs improvement in my own dancing."
---
Dylan Wald
Training: Various competition studios in Minneapolis, MN; Minnesota Dance Theater; Pacific Northwest Ballet School's Professional Division; attended summer courses at Julliard, Hubbard Street Dance, School of American Ballet, PNB, Nederlands Dans Theater.
Role Models: Gene Kelly, Lise Houlton, Ethan Stiefel, & Peter Boal.
Favorite Roles:
The Calling (Jessica Lang) "It's a vulnerable, beautiful solo that I got to dance when I was very new to the Company."
Empire Noir (David Dawson) "This role was particularly rewarding. It is such an endurance challenge that pushed me past my previous boundaries."
Prince Siegfried in Swan Lake (Kent Stowell) "This has been a dream role ever since I was first introduced to ballet."
Dylan hopes to dance Apollo (Balanchine), Petite Mort (Kylian) and Albrecht in Giselle in the future.
Strengths & Weaknesses: "I like to think my strength is not being too afraid of weakness. There is always more to explore artistically, as well as physically, in the art form. I try to face every challenge with authenticity and a lot of hard work."
"I try to focus on being a well-rounded human. Focusing on your art and career is important, but there must be a balance. When there is time off, I try to take the time to enjoy life and the people around me. Dancing for a career is hard, and to be an artist, you have to be a well-rounded person. To live life fully, and without revision, is what I strive for everyday!"