The Nutcracker Study Guides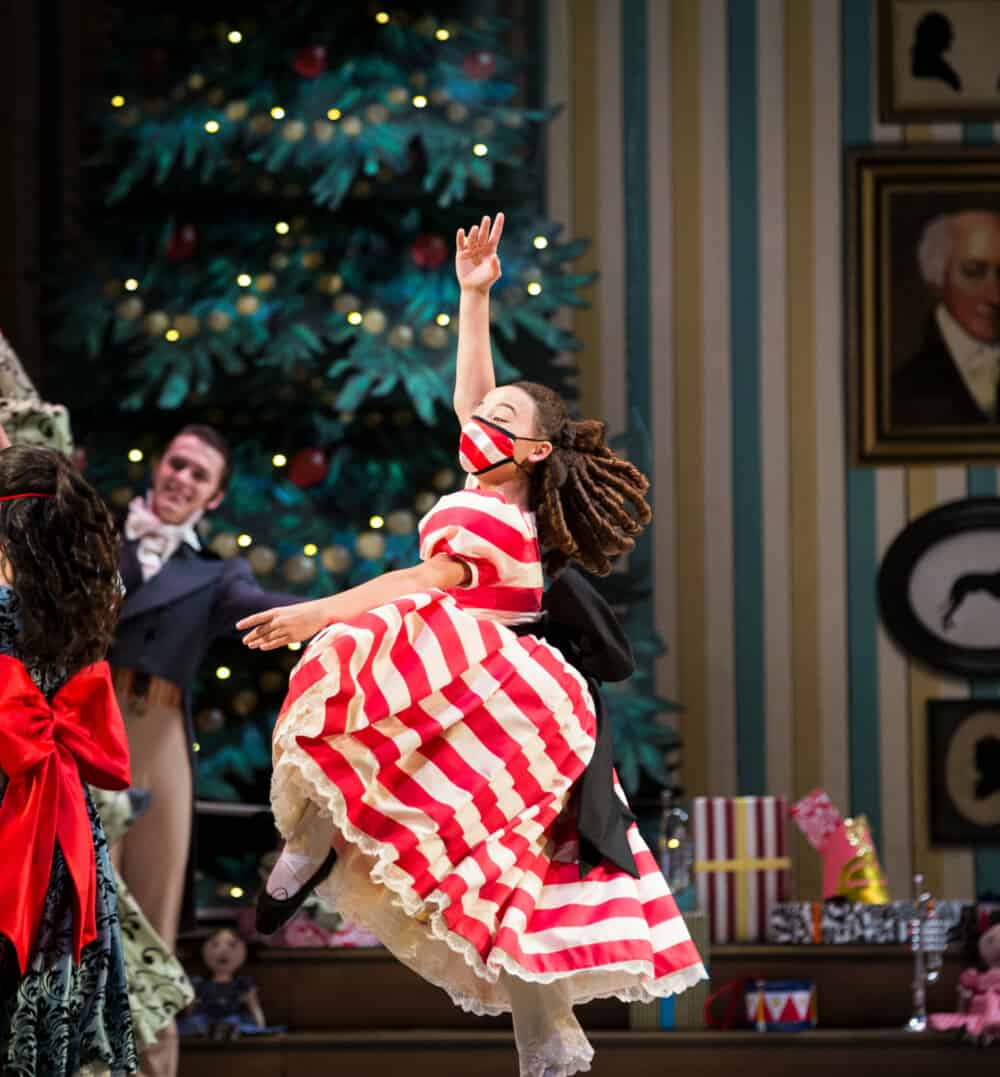 Pacific Northwest Ballet's Community Education team has put together study guides in a variety of languages for our young audience members to learn more about PNB's productions. Click on each link below for a printable study guide for George Balanchine's The Nutcracker® in a variety of languages. And keep reading this post for the English version.
የNutcracker የጥናት መመሪያ በአማርኛ (Amharic)
The Nutcracker study guide in English
The Nutcracker study guide in Oromo
Hagaha waxbarasho ee Nutcracker ee Soomaaliga (Somali)
La guía de estudio del Cascanueces en español (Spanish)
Ang gabay sa pag-aaral ng Nutcracker sa Tagalog (Tagalog)
Hướng dẫn học Kẹp hạt dẻ bằng tiếng Việt (Vietnamese)
---
About Pacific Northwest Ballet
Pacific Northwest Ballet (PNB) dancers are full-time professional ballet dancers. The Company is comprised of 47 dancers and led by Artistic Director Peter Boal. The Company dances over 100 performances each year at McCaw Hall in Seattle. PNB dances many types of ballets, including story ballets like The Nutcracker and Swan Lake as well as dances that are performed barefoot.
PNB is one of the top companies int he Unites States. Pacific Northwest Ballet School is one of the top three ballet schools in the United States.
George Balanchine's The Nutcracker®
PNB premiered George Balanchine's The Nutcracker® in 2015. The ballet was originally danced in 1954 by New York City Ballet. It is now danced all over the United States.
PNB's version of The Nutcracker features sets and costumes design by Ian Falconer. Mr. Falconer is the author and illustrator of the famous Olivia the Pig book series. Planning, designing, building, and rehearsing took nearly four years to bring this version of The Nutcracker to the stage.
---
The Nutcracker by the Numbers:
154 costumes
70 PNB School students in each show
400 hours to build the tree
35 set builders and painters
30 cubic feet of snow
10 feet = the width of Mother Ginger's skirt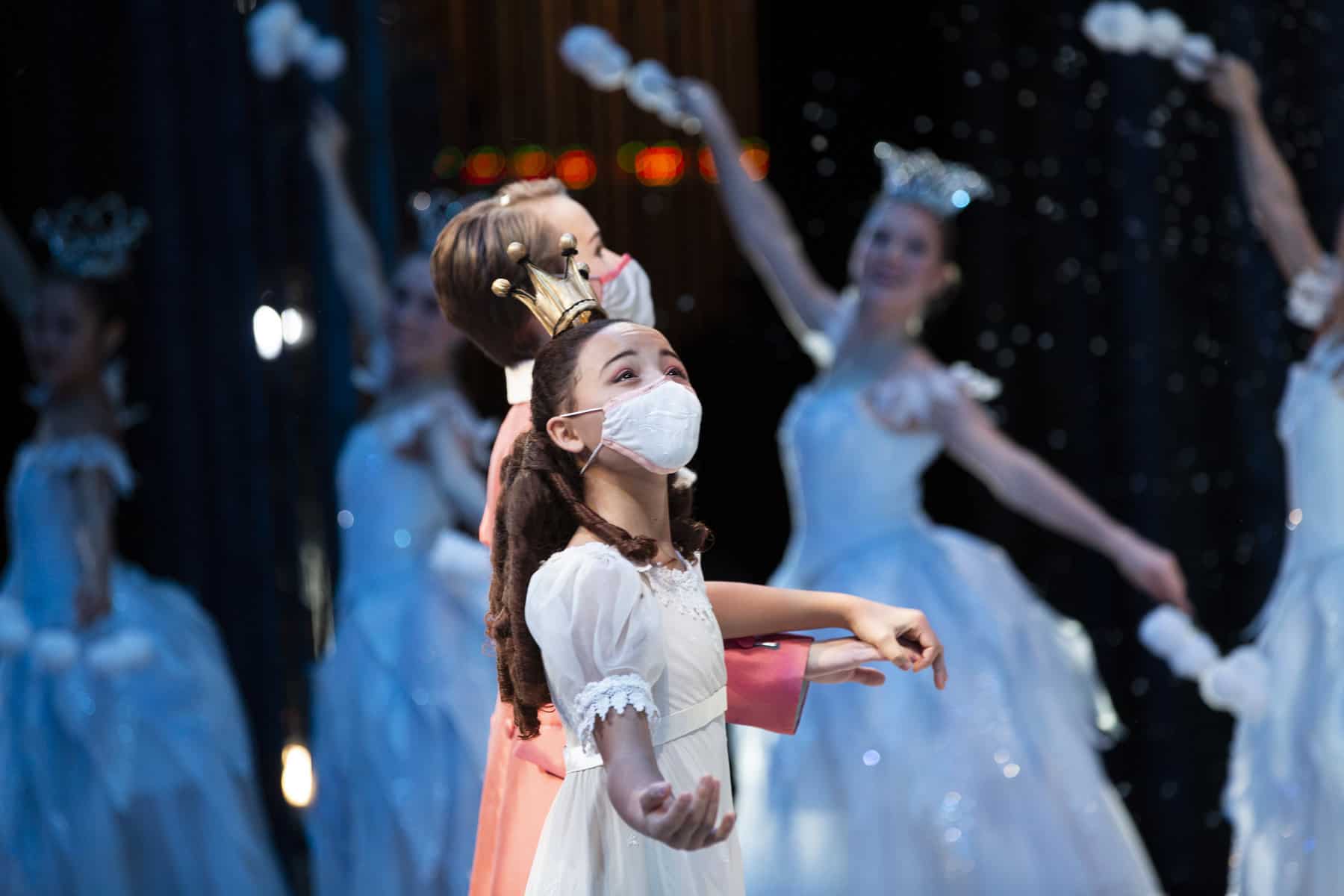 A Dancer's Day
The dancers at PNB are professionals. This means dancing is their job. Their work is to dance, rehearse, and perform ballets. No day is ever the same, but most days follow a similar routine.
Dancers make a serious commitment at a young age. Most dancers train at least 10 years before becoming a professional; careers usually last less than 20 years.
8:30AM – 9AM: Arrival
Dancers arrive early in order to change into ballet clothes, stretch, and prepare for a full day of dancing.
9:15AM – 10:45AM: Class
The Company starts each day with a ballet class. Class starts with warm-up exercises at the barre, followed by longer combinations that move around the room.
11:05AM – 2PM: Rehearsal
2:05PM – 3PM: Break
3:05PM – 6PM: Rehearsal
During rehearsals, dancers learn and practice what will be performed on stage. Rehearsals are usually for smaller groups.
7:30PM: Performance
On performance days, dancers start their day later. Once they arrive at the theater, they prepare by putting on costumes and makeup, and warming up.
---
Ballet Costumes
A costume designer starts by drawing a costume, which is then made by the PNB Costume Shop staff. The staff sews many things by hand, including tutus, jackets, and masks. On average, tutus take 100-200 hours to make and cost upwards of $2,000.
Due to the cost and time, costumes are used year after year and are fitted to more than one dancer. After performances, costumes are cleaned, repaired, and stored until the next time they are needed.
Sets, Backdrops, and Props
There are nearly 40 backstage crew members responsible for set changes, lighting changes, backdrop and curtain changes, audio, and preparing props during a performance. The Stage Manager is responsible for coordinating all of this activity as well as calling dancers to and from the stage. It takes many years of planning, drawing, painting, and building to create a ballet like George Balanchine's The Nutcracker®.
Music at the Ballet
PNB has its own orchestra, consisting of 57 musicians. The PNB Orchestra plays for all PNB Company performances. In addition to performances, all PNB classes are accompanied by piano.
About Shoes
All dancers begin training in soft shoes. One a girl's feet, legs, bones, and muscles have strengthened, they begin to dance en pointe. This happens around age 11.
The tip of the shoe (box) is made of layers of burlap, cardboard and glue (no metal, plastic, or wood). The construction is similar to papier maché. PNB Company dancers typically use up to 100 pairs of pointe shoes per season.
This study guide was created by Pacific Northwest Ballet's Community Education Department for use by teachers and students. Reproduction of this guide is allowed, when proper credits are included.
---
All photos from George Balanchine's The Nutcracker® choreography by George Balanchine © The Balanchine Trust. Photos © Angela Sterling.