PNB is so grateful for the work of our archivist, Sheila Dietrich. Sheila collects materials from our history and often exhibits them for lobby displays at McCaw Hall. In honor of Jerome Robbins' 100th birthday and PNB's centennial celebration of the choreographer's life, Sheila dug into the archives to recount Robbins' longtime relationship with PNB. Read what she found!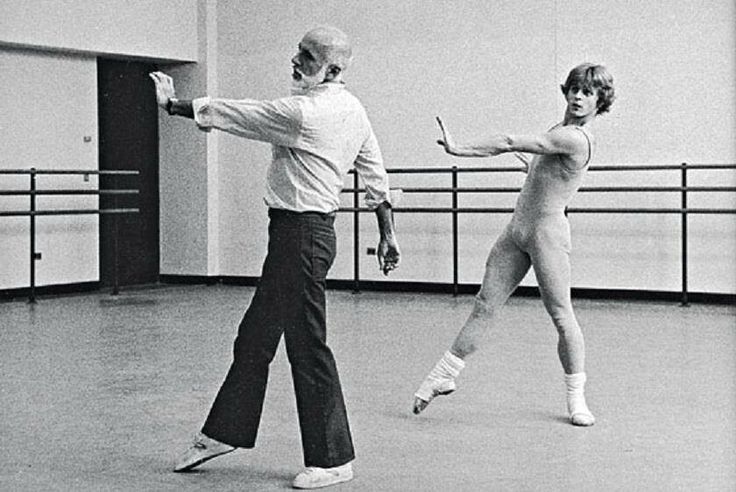 Jerome Robbins (1918-1998) is not known to have attended any PNB performances, even when the Company toured to the East Coast in 1984, 1987, 1989, 1992, and 1996. He did apparently watch videos of PNB performances when he was considering allowing the company to perform his ballets in 1984 and 1994. Despite never seeing a "live" performance, Robbins had ties to PNB through his connections with individuals in past and current artistic leadership positions: Janet Reed, Francia Russell, and Peter Boal.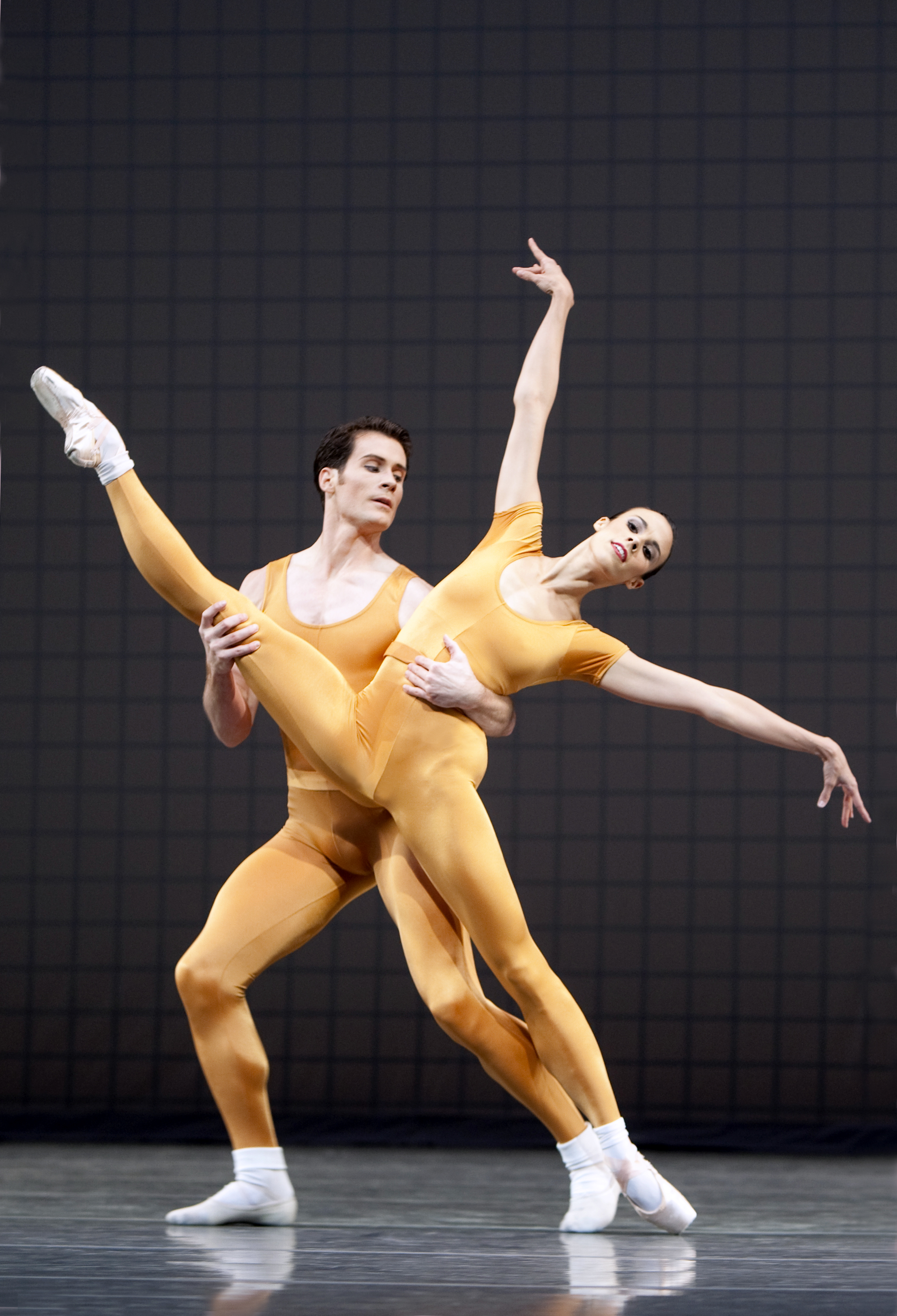 Janet Reed (1916-2000)
Ballet Mistress, Pacific Northwest Dance (the original name of PNB), and Director of the School, 1974-1976
When Janet Reed joined (American) Ballet Theatre in 1943, Jerome Robbins already had been a dancer with the company for several seasons. He also choreographed, and in early 1944 created his first ballet, Fancy Free. He worked closely with Janet on Fancy Free while they were on a cross-country tour in January of 1944. At the premiere in April of that year, she originated the role of the Second Passerby, while Robbins himself was one of the three sailors (the one who performs the sexy solo rumba).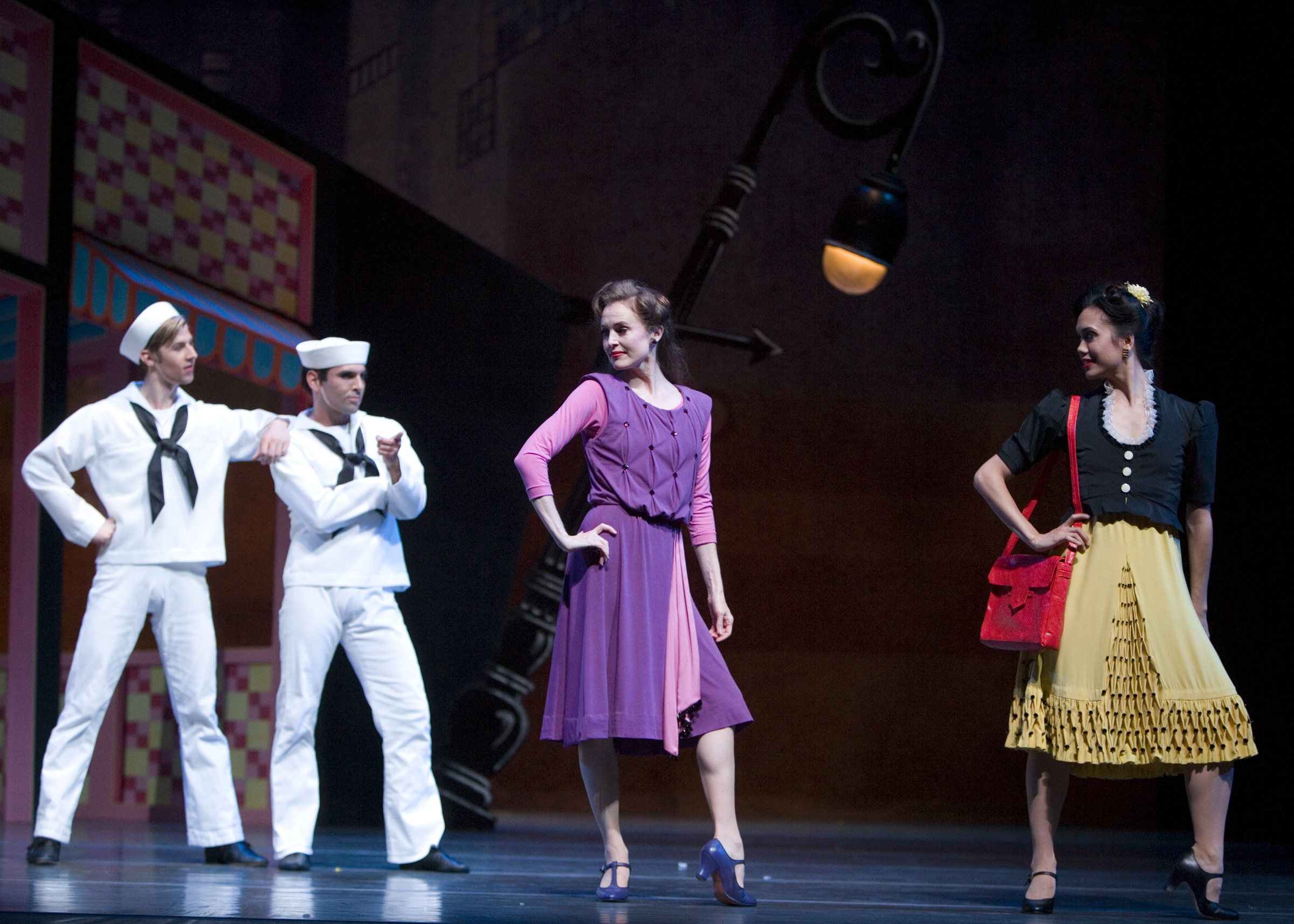 Robbins continued to cast Janet Reed in other works he created at Ballet Theatre for several more years, in the 1948 musical Look, Ma, I'm Dancing! (Robbins had conceived and choreographed this comedy featuring an international ballet company, and Janet performed the lead dance role), and ultimately at New York City Ballet. Robbins had joined NYCB by early 1949 as a choreographer, then began dancing selected roles as well as choreographing; later that year he was named associate artistic director (to George Balanchine's artistic director). Janet joined NYCB as a principal dancer in fall 1949.
The opening of the November 1949 season saw the company debuts of both Janet Reed and Jerome Robbins (as a NYCB dancer) in Todd Bolender's Mother Goose Suite. Their association with NYCB continued. Janet, after retiring from dancing in 1958, served as ballet mistress at NYCB for another five years. Robbins retained the title of associate artistic director until approximately 1963, but in fact became more involved with musical theatre and with his own small company, Ballets: USA, from the late 1950s to the late 1960s.
Thirty years after Janet Reed danced in the premiere of Fancy Free, she became ballet mistress of Pacific Northwest Dance and founding director of the School. In those roles she provided artistic guidance for two years. She returned as guest teacher and faculty member of the School from the late 1970s into the late 1980s, when Kent Stowell and Francia Russell were artistic directors.
Janet's familiarity with Robbins' early ballets allowed her to make one of the best characterizations of his works:
"A Robbins ballet is something other than doing steps and creating patterns in relation to the music. There's a human relationship. You look the other person in the eye." (Quoted in Jeanie Thomas' essay, "Jerome Robbins: America's own Classicist," November 1994 Encore.)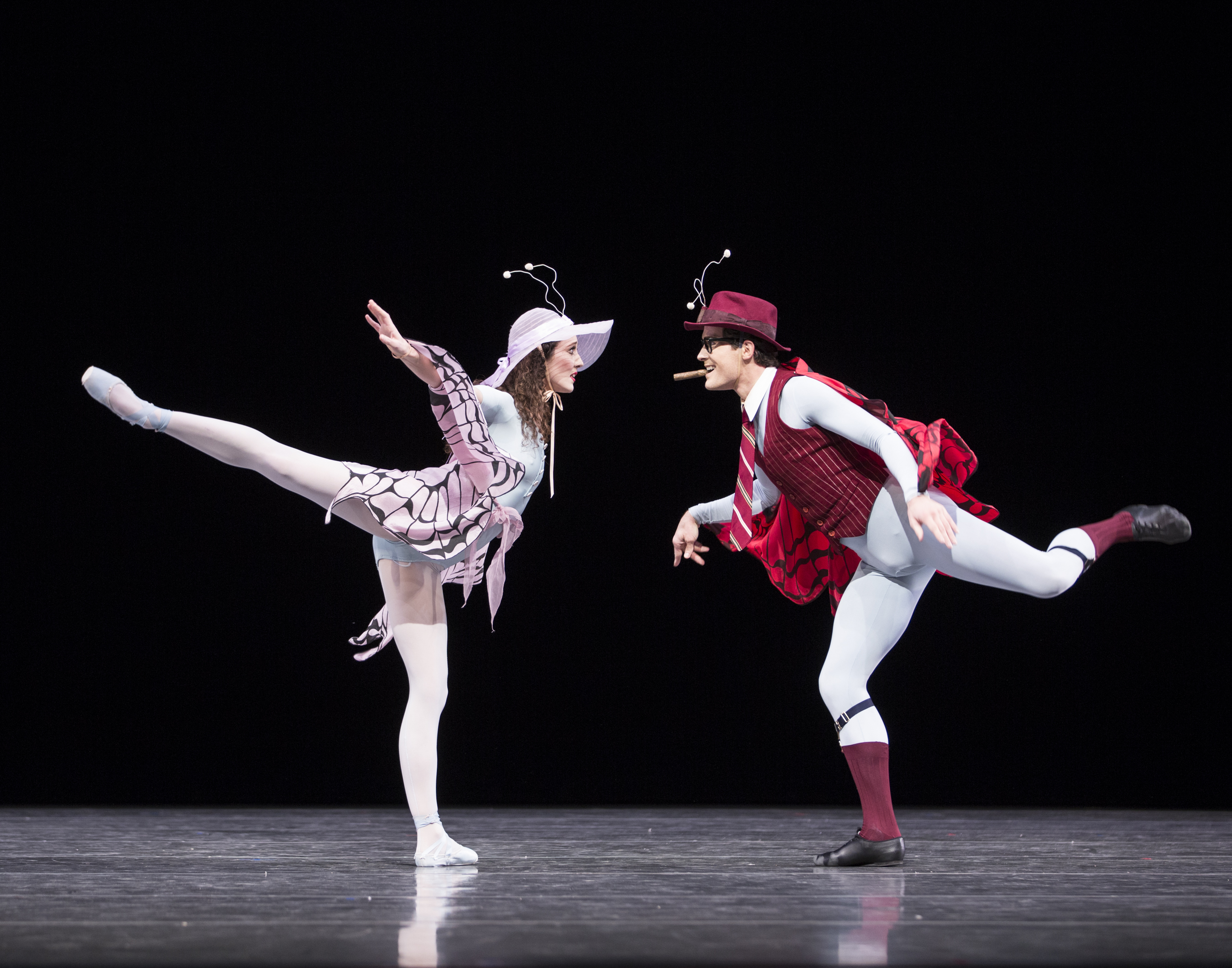 Francia Russell (b. 1938)
PNB Artistic Director, with Kent Stowell, 1977-2005
Francia Russell joined NYCB in 1956, and danced in many of Robbins' early works, including Fanfare and The Pied Piper on the company's European tour in fall 1956. (The latter work, which had included Janet Reed in the premiere cast, received rave reviews in Europe, as well as in New York, and was considered typical of the best contemporary American choreography. Unfortunately, it was not revived as many of Robbins' early works were, and disappeared from the repertory.)
After retiring from dancing with NYCB in 1961, and before embarking on her career as teacher at Balanchine's school and ballet mistress at NYCB, Francia danced in summer 1961 with Robbins' own company, Ballets: USA (in existence intermittently from 1958 to early 1962). She remembers dancing virtually everything the company performed on its European tour (e.g., Interplay, The Pied Piper, Events, The Cage), except the jazz works Robbins had choreographed. In a 1994 interview, she recalled what sounds like a grueling rehearsal schedule on the tour: "…the company performed seven ballets…and rehearsed each ballet every day, always finding more to learn." (Quoted in "Jerome Robbins: America's own Classicist," November 1994 Encore.)
Before leaving the position of NYCB ballet mistress in 1969, Francia was present when Robbins created Dances at a Gathering. She remembers how he would experiment endlessly with different versions of his choreography, rearranging the sequence of dances in that ballet. "We had to post the latest version in the wings for the dancers to refer to, so they'd know when to go on. The ballet was already so good, it seemed impossible that it could get any better, but it did, for he'd eventually find what he had been looking for, and he'd be right." (Quoted in "Jerome Robbins: America's own Classicist," November 1994 Encore.) In an interview with dance writer Edwin Denby in late May 1969, shortly after the official premiere of Dances at a Gathering, Robbins himself described this fluid process:
…that last two weeks [before the May 8th gala benefit preview scheduled before the official premiere] I spent in arranging, trying to get the right order. Not only who danced what, but also that sense of something happening—making the dances have some continuity, some structure, whether I knew specifically what it was or not. At one point I had the scherzo finishing the ballet and the grand waltz opening it. All different sorts of ways. …it was a marvelous sort of puzzle. …And suddenly a picture was there.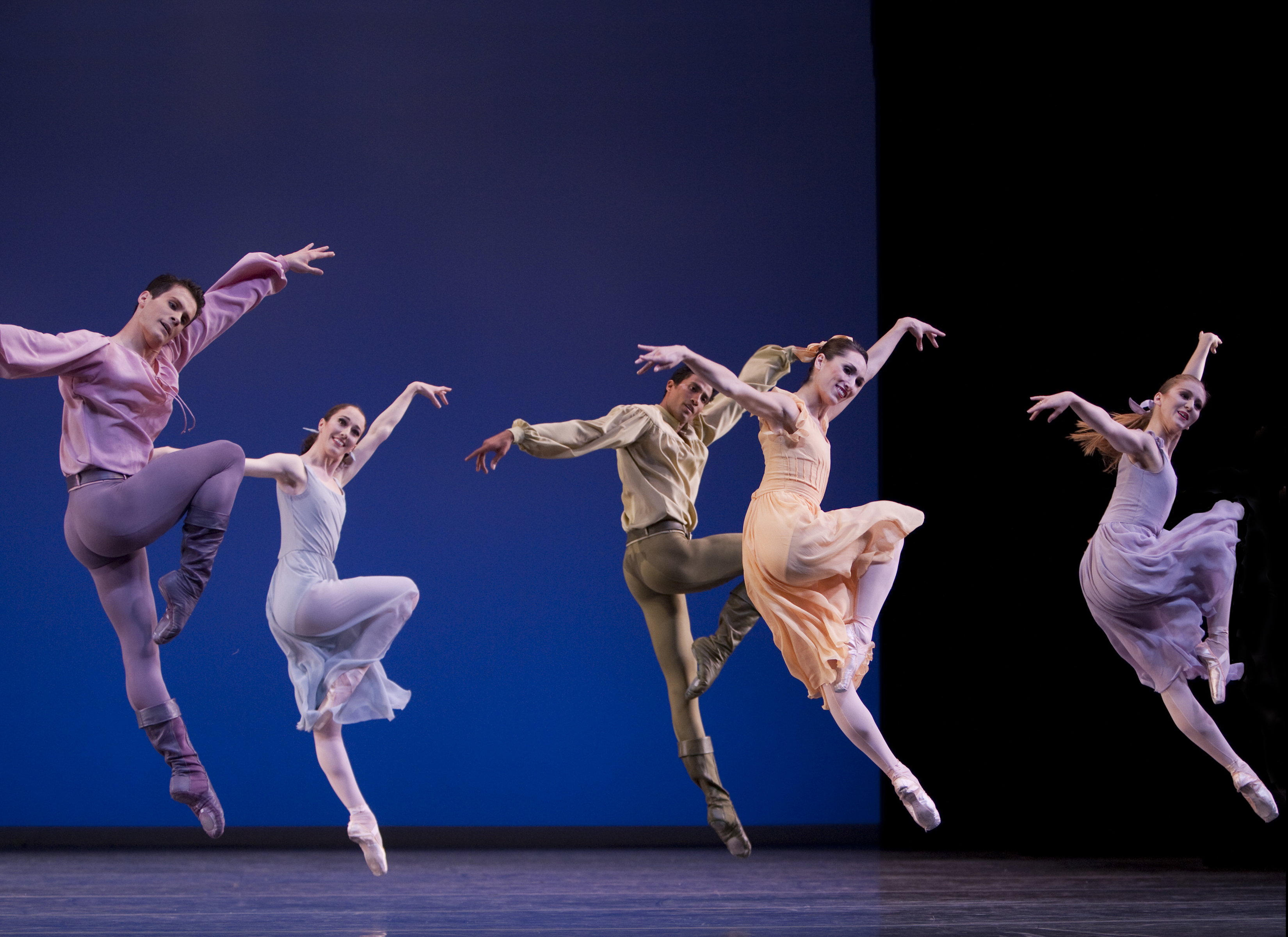 In a letter to Denby sent the day after the interview, Robbins took issue with Denby's dark interpretation of the ending, where the dancers stop and look up at the sky, as if watching something crossing the sky. Denby said he had thought of missiles, and war, and atom bombs. Robbins in his letter responded:
…I feel you are imposing a terribly out-of-context meaning to what they are seeing. The ballet stays and exists in the time of the music and its work. Nothing is out of it, I believe; all gestures and moods, steps, etc. are part of the fabric of the music's time and its meanings to me. I couldn't think of planes—A bomb, etc. Only clouds—and the flights of birds—sunsets and leaves falling—and they, people's reactions are all very underplayed, very willing to meet whatever threat is in the music. …they weren't afraid, had no self-pity, and stayed—didn't leave. And I do feel that last piece is the logical end of the whole ballet. To me it is very much the only possible result of all that's come before. (Text of interview and letter included in "Reflections and Conversations," Dance Magazine, July 1969.)
It was not too long after Francia Russell and Kent Stowell assumed artistic leadership of PNB in summer 1977 that they began thinking of adding a ballet by Jerome Robbins to PNB's repertory. In February 1983, Francia wrote a "Dear Jerry" letter requesting performing rights for one of his ballets: The Pied Piper was her first choice (it was the work in which she had danced her first solo part), or The Cage, The Concert, or Fanfare. Francia mentioned Janet Reed as someone who could vouch for the Company's talents and ability to perform Robbins' work.
Nothing was decided for another year; Francia wrote again in early 1984, hoping that he would consider her request for PNB's 1984/1985 season, on this occasion mentioning Dances at a Gathering, as well as The Cage and The Concert. She emphasized that, if PNB could perform one of his works, it would be a great opportunity for the dancers and for their audience; it also would benefit Robbins, since his works were not as well-known on the West coast as she felt they deserved to be. Finally, Robbins' The Cage was added to PNB's repertory in October 1984. Francia wrote to Robbins that it would be an ideal addition to PNB's repertory, and, since she had danced it "countless times with both NYCB and Ballets: USA [she] felt very comfortable about keeping it in excellent condition." At that time, PNB was the only company outside of NYCB and Robbins' own Ballets: USA to perform the work.
After The Cage was staged for PNB, Francia wrote to Jerry how much she had enjoyed the rehearsals: "Every step and gesture came back to me as though I had danced the ballet yesterday. Your words were ringing in my ears." Despite PNB's apparent success in that work and Francia's request in early 1985 for another Robbins' ballet (she named among her choices Other Dances as well as the works she had mentioned earlier), it was not until 1994 that a second Robbins' ballet was added to the repertory. (The license fee/royalty fee had increased astronomically during that period, which might, at least in part, explain this.) In November 1994, PNB performed Fanfare, which NYCB had premiered in June 1953 as a celebration of Queen Elizabeth II's coronation. In "Director's Notebook" for the November 1994 Encore, Francia recounted that she had danced almost every female role in that ballet except the piccolo while with NYCB: from flutes to harp (her favorite), and even including the horns, before those roles were given to male dancers. Twenty-four years after PNB's premiere of Fanfare, Pacific Northwest Ballet School performed that work at the annual School Performance in June 2018, in costumes the Company's Costume Shop had built in 1994.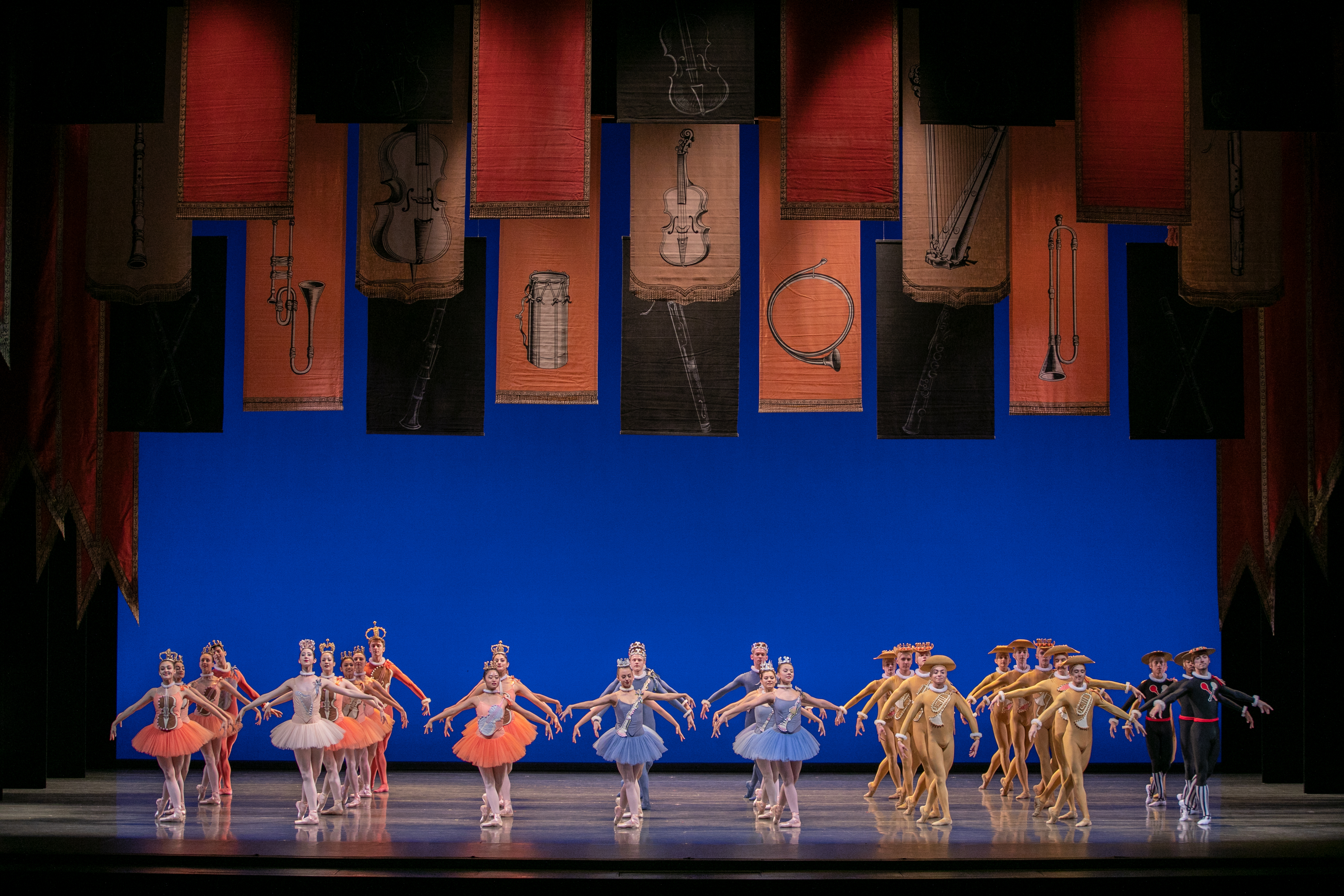 Peter Boal (b. 1965)
PNB Artistic Director, 2005 to present
At the time Peter Boal transitioned from NYCB apprentice to member of the corps de ballet in spring 1983, Balanchine had just died, and Jerome Robbins and Peter Martins had assumed artistic direction as ballet masters-in-chief. Peter had the benefit of being coached by Robbins and originating roles in Robbins' choreography in the succeeding years until Robbins' death in 1998. (Even as a promising ten-year-old student at the School of American Ballet, Peter had been coached by Robbins in the role of Cupid in Mother Goose.)
Robbins' ballets that Peter performed ranged from works originally created in the 1940s and 1950s (Fancy Free, Interplay, Fanfare, Moves) to works choreographed from 1969 to the 1980s (e.g., Dances at a Gathering, In the Night, The Goldberg Variations, Opus 19/The Dreamer, Glass Pieces) to those Robbins choreographed on Peter and several other dancers in the last few years of his life (e.g., Brandenburg in 1997).
Peter's comments regarding the emphasis on relationships in Robbins' ballets also echo those of Janet Reed, and help define what it is about the choreographer's works that is so compelling to the audience:
I prefer to watch Robbins' choreography from close proximity, to see faces and eyes as well as movement. Robbins' work is about the relationships that unfold before us. They are both subtle and profound, like those of the actionless protagonists found in a Henry James novel. They exist in the abstract, and yet we see ourselves clearly in the mirror we hadn't known was there. Jerry rarely let us acknowledge the presence of an audience. The focus on one another was paramount; the effect riveting for the audience. ("Director's Notebook," May-June 2009 Encore, on PNB's premiere of Dances at a Gathering.)
Robbins took the unusual step of coaching Peter in 1987 in the title role in Balanchine's Prodigal Son—a role that Robbins had dramatically defined when Balanchine revived the work for him at NYCB in 1950. Boal received acclaim for his performances of the Prodigal at NYCB, and has transmitted what he gained from Robbins' teaching to PNB dancers.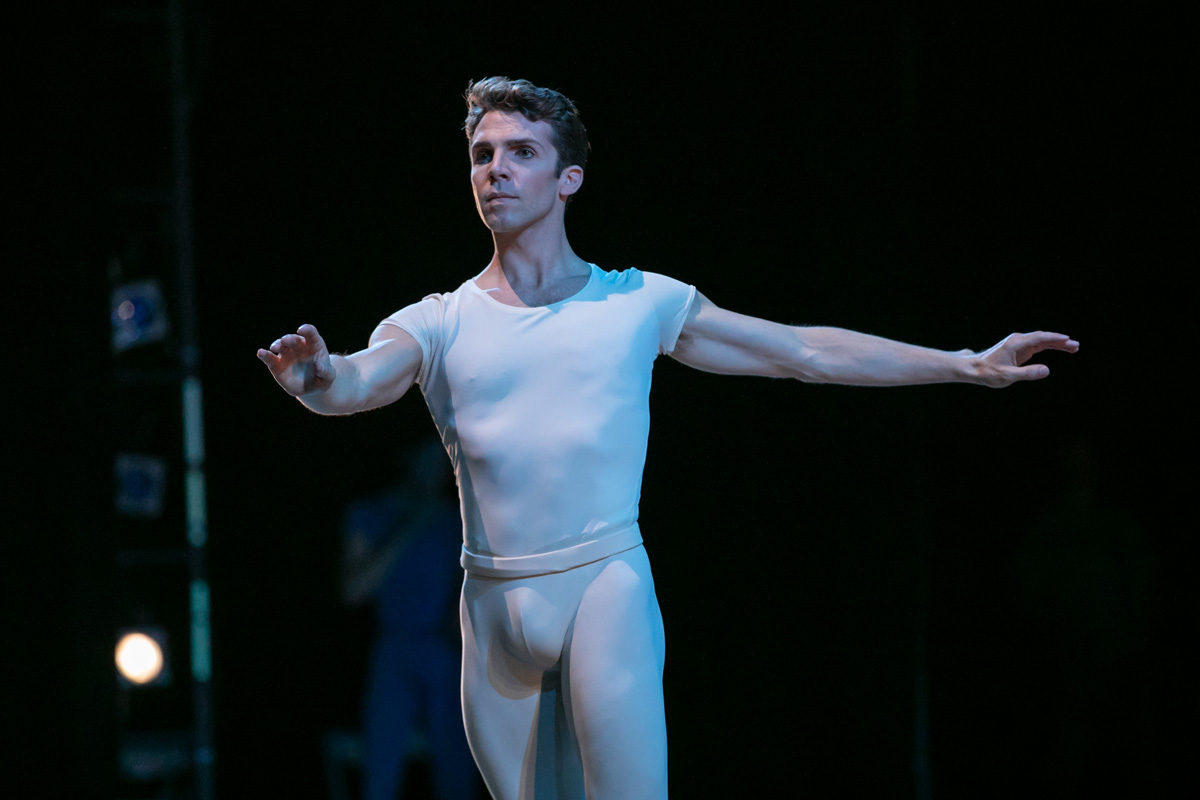 For Peter's last appearance as a NYCB principal dancer in June 2005, his choices for his retirement performance included Opus 19/The Dreamer. On several occasions, Peter has spoken and written about the significance of that work to him: how it brought him together with Robbins in the studio more than any other ballet did, and performing the role of the Dreamer was a highlight of his career. He noted, "I felt I always gave 100% in everything I danced, but for Opus Jerry wanted more—a level of physicality and commitment that was almost beyond human ability." (Quoted in Program Notes, June 2017 Encore.) Peter continues to impart to PNB dancers cast as the Dreamer (Benjamin Griffiths, James Moore, Lucien Postlewaite, and Dylan Wald) the insights he gained from working so closely with Robbins.
For more details on Peter's work with Jerome Robbins (including the story of the Prodigal's Egg McMuffin breakfast), see his recent anecdote in Dance Magazine.
—Sheila Dietrich, PNB Archivist