Our All New Mobile Tickets: Everything You Need to Know
A big change is coming to PNB! Sometimes, change is exciting, like a new promotion for a deserving dancer. Other times, change is a little more mundane but just as important. At PNB, we are updating our electronic ticketing system. This change will greatly enhance our customers' experience at the ballet, but with any change, there is always an adjustment phase. Read on to learn all about our new electronic tickets!
What is the new system?
In the past, when PNB patrons selected "Email Delivery" at checkout, they would receive an email with their tickets attached in a PDF. Now, rather than PNB patrons receiving their tickets via email, their tickets will be stored on a secure, password-protected website. There will no longer be an option for "Email Delivery." To access E-Tickets, you can select "Mobile Delivery" at checkout. Then, you can access your tickets at wallet.PNB.org. After logging in to that site with your PNB.org login, you can view your tickets, which will contain a unique, constantly updating QR code. This QR code will keep your tickets secure, and it is similar to the tickets many major organizations like Ticketmaster use. Not interested in electronic tickets? No problem! PNB will still mail physical tickets or hold them at the Box Office for you.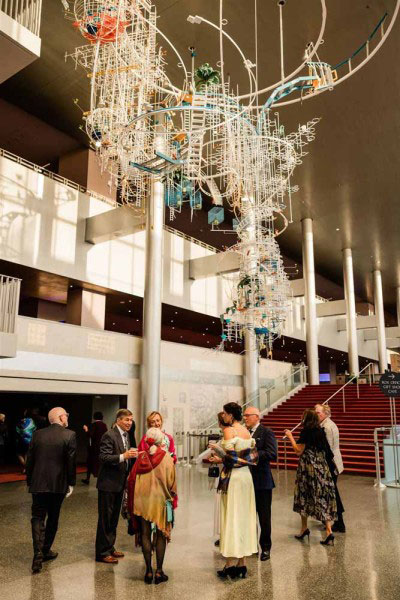 Why is PNB switching to Mobile Tickets?
Like many performing arts organizations, PNB is facing increasing challenges due to ticket brokers. Ticket brokers cause problems for us and our customers by selling tickets at exorbitant prices or by selling fraudulent tickets. Most ticket brokers charge higher prices than PNB, but they leave their ticket buyers with no customer support. Increasingly, customers who have purchased tickets from brokers arrive at McCaw Hall with tickets that are for the wrong performance date or are flat-out fraudulent tickets. We provide tips for patrons to avoid ticket brokers, but once patrons have purchased tickets through a broker, there is little we can do. We are frustrated with ticket brokers taking advantage of unknowing customers, and we want to do everything in our power to prevent that.
This is why we decided to implement mobile ticketing. Mobile tickets discourage ticket brokers with a dynamically changing, unique QR code that is scanned when you arrive at a show. By allowing only one scan per entry, any ticket brokers' attempts to duplicate, alter, or resell copies of mobile tickets will result in denied entry. This empowers our patrons to make a chargeback claim on fraudulent tickets. Mobile ticketing also offers a convenient, digital option for patrons and prevents patrons from losing their tickets.
How do Mobile Tickets work?
To access your mobile tickets, you will need access to a smartphone or tablet at McCaw Hall. On your device, go to the webpage wallet.PNB.org. Using your PNB.org login info, sign in to your account. Once logged in, you will see a page with your PNB events. Tap on the date of the event you are attending to pull up your tickets. Once you have selected your correct event, you will see a QR code. Show this QR code to an usher to scan, and enjoy the show!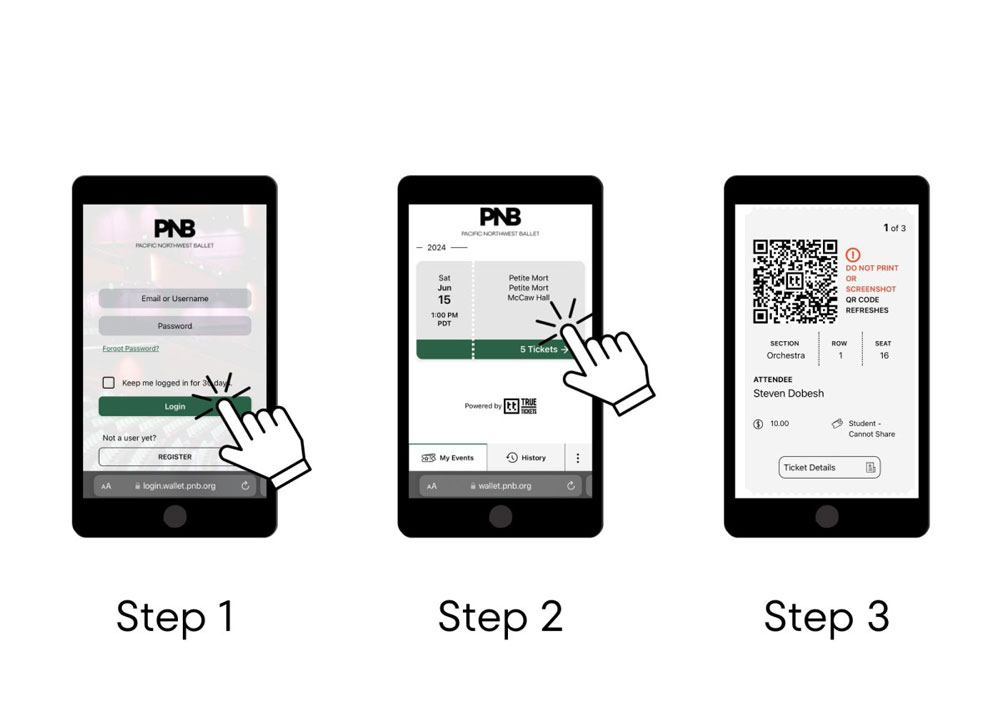 If you purchased tickets for a friend or a large group, you can share those tickets with them. This way, if someone from your group is running late, you can enter the show and ensure they can scan in later. Login to your PNB Wallet at wallet.PNB.org, tap your event, and view your tickets. Scroll down on the page and tap the "Share Tickets" button. Enter your friends' names and select the tickets you'd like to share with them. Then, send the provided invite link to your friend.
If your phone loses battery, your tickets aren't loading, or you run into any other technical issues, never fear! We have plenty of team members on site who will be happy to assist you with your tickets. Visit our Concierge table or our Box Office inside McCaw Hall for help. If you're struggling to access your tickets while at home or have questions about mobile tickets, you can reach the Box Office at 206-441-2424 or tickets@pnb.org.