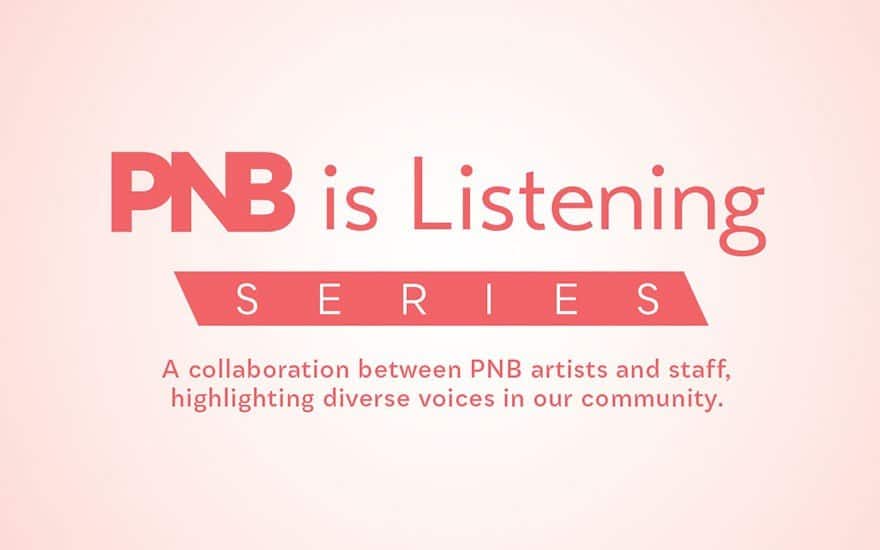 November 2021
Get to know PNB's newest Company members Jonathan Batista, Ginabel Peterson, James Kirby Rogers, and Lily Wills, interviewed by Executive Assistant to the Artistic Director Sarah Kolat. You'll get to hear about the experience of auditioning for PNB via Zoom, how they enjoyed their first performance with the company, and how they're settling in to Seattle life.
October 2021
Dwight Rhoden and Desmond Richardson, co-artistic directors of Complexions Contemporary Ballet, met with Peter Boal to remember Ulysses Dove, one of the most innovative contemporary choreographers of the past half-century.
August 2021
Theater artist and activist Ana María Campoy recently met with PNB dancers Amanda Morgan, Clara Ruf Maldonado, and Sarah-Gabrielle Ryan for a rich conversation about their respective Chicana and Latinx heritages, how their identities inform their dancing, and their advice to young dancers today.
July 2021
At the start of the pandemic, PNB dancers Cecilia Iliesiu and Amanda Morgan began a mentorship program for PNB School's Professional Division. In this edition PNB is Listening, they talk with PNB School's Consulting Therapist (and former PNB dancer), Josh Spell, about their mentorship program, Josh's holistic approach to mental health, and how PNB School has supported their students through this difficult past year.
June 2021
Happy Pride Month! Director of Company Operations Kiyon Ross sat down with four PNB artists & staff to talk about what Pride means to them. Thanks to Major Gifts Officer Jackson Cooper, Corps de Ballet dancer Christopher D'Ariano, Senior Marketing Manager Noel Pederson, and Principal dancer Lucien Postlewaite for sharing their experiences, and to Kiyon for hosting this fantastic conversation.
Keep the celebration going all month long with our curated Pride reading list on the PNB blog.
April 2021
Somewhere, A Place For Us: A Conversation with Alexander Bernstein
In February 2021, PNB's Jackson Cooper spoke with Alexander Bernstein about his childhood, memories of growing up with the creators of West Side Story and other artists, and how he has carried on his father Leonard Bernstein's Artful Learning model, which uses music, visual arts, and performing arts to instill a love of lifelong learning in students. For a deeper look at West Side Story, visit the PNB blog for Jackson's reflection on mid-century Manhattan and the complicated, inimitable creators of this classic American musical.
March 2021
In November 2019, PNB presented Locally Sourced, featuring three Seattle-based choreographers. One of them, Miles Pertl, partnered with his sister and fellow artist Sydney M. Pertl to highlight additional local artists in a pop-up art exhibit as part of his world premiere. Skid Road Gallery was produced by Seapertl Productions and featured artists without current professional gallery representation. Over 10,000 ballet attendees visited the gallery during its 10-day run. Last fall, Seapertls caught up with five of the Skid Road Gallery artists for conversations about what they're up to a year later, how they are doing during the pandemic, and what it means to be an artist in Seattle at this moment in time. Read about the artists on the PNB Blog.
February 2021
Kiyon Ross (you may remember him as Kiyon Gaines, PNB Soloist) has had an illustrious career as a dancer, PNB School faculty member, Next Step Program Manager, and most recently as PNB's Director of Company Operations. Kiyon is also an established American choreographer, having created over 25 works at PNB, Atlanta Ballet, and across the country. As Black History Month 2021 comes to an end, we are celebrating Kiyon's excellence and many contributions to the field of dance. Watch this interview, conducted by his best friend Jonathan Porretta, and find out why Kiyon celebrates his birthday all month long!
December 2020
Wendy Whelan, Aesha Ash, Carla Körbes, Peter Boal, and Christopher D'Ariano speak about the brilliant life and work of Albert Evans in this short documentary. Watch to the end for a full performance of the solo One Body.
July 2020
A Conversation with Donald Byrd: PNB Company Dancer Christopher D'Ariano recently connected with choreographer Donald Byrd to discuss his methods, inspiration, the process of creating Love and Loss for PNB, and his experience as a Black choreographer. Video by Christopher D'Ariano.